Sri Lanka is an island that everyone loves at some level inside themselves. A very special island that travellers, from Sinbad to Marco Polo, dreamed about. A place where the contours of the land itself forms a kind of sinewy poetry.
-Romesh Gunesekera
1. Where to go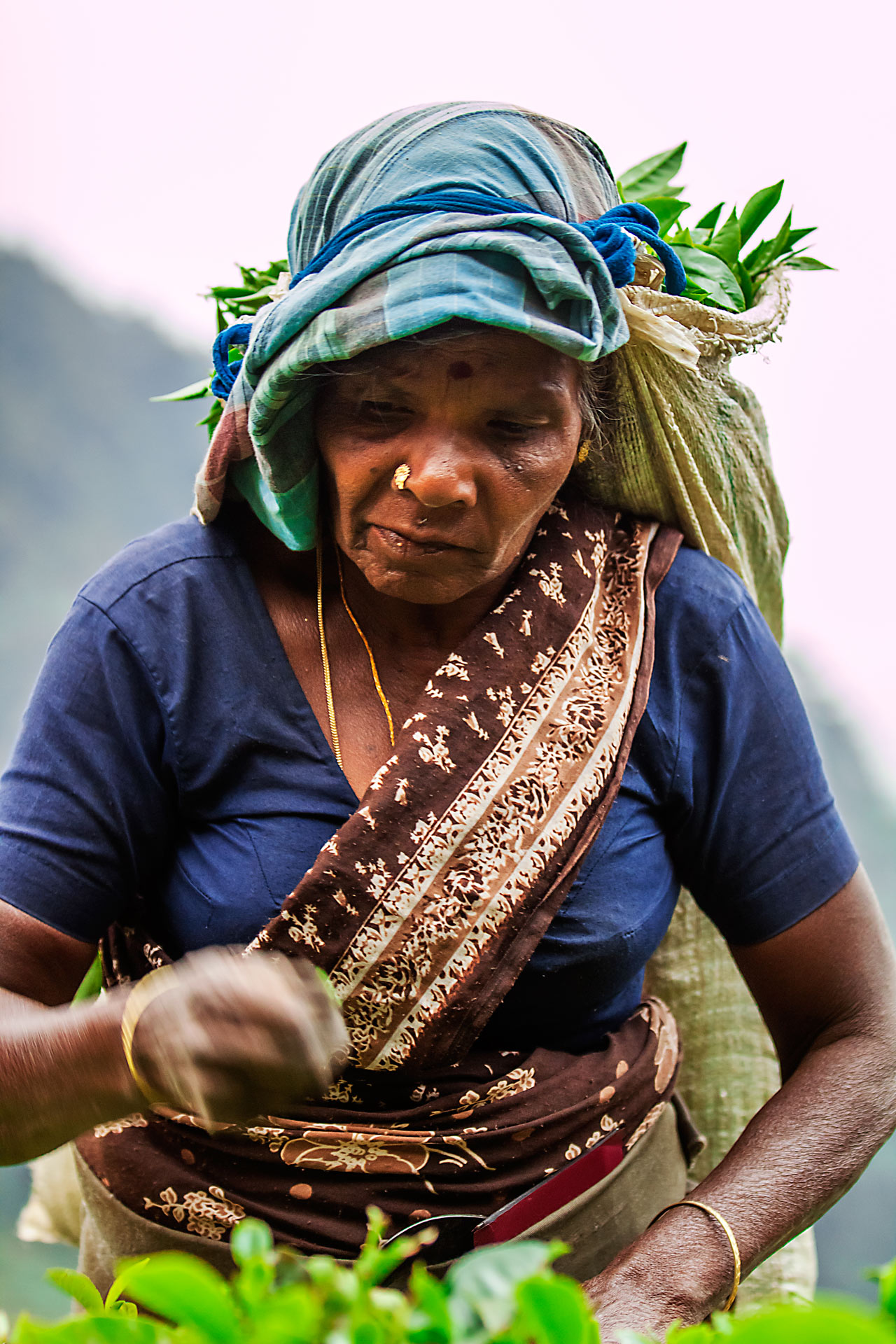 Sri Lanka is known for its beautiful beaches. However don't forget to enjoy abundant vegetation spread in up-country, mainly in Kandy area.
This pearl of Indian ocean, as it is called is also specific in tolerating all religions at one place.
You can find buddha statue, christian cross, hindu shiva and muslim mosque at one place.
I saw it in a bus for example. Signs of all main religions in one bus! That is called a harmony.
 Tea picker in Adam's Peak area, Sri Lanka
Photo by Lenka Michálková  
Adam's Peak (Sri Pada)
Adam's Peak, also known as Sri Pada is mountain in the central highland region of Sri Lanka. It's high is 2,243m (7,359 ft). It is very popular for tourists as well as for Sri Lankans. The typical climb takes 5-7 hours and the best time to start is middle of the night so you can reach the peak for a breathtaking sunrise listening to (usually) buddhist prayers. However all religions has a special relationship with this place.
Be prepared for many stairs to climb. On the way there you will probably meet some monks trying to sell red buddhist bracelets.On the way back you can enjoy unforgettable sights of typical tea picker on greenish green tea plantations.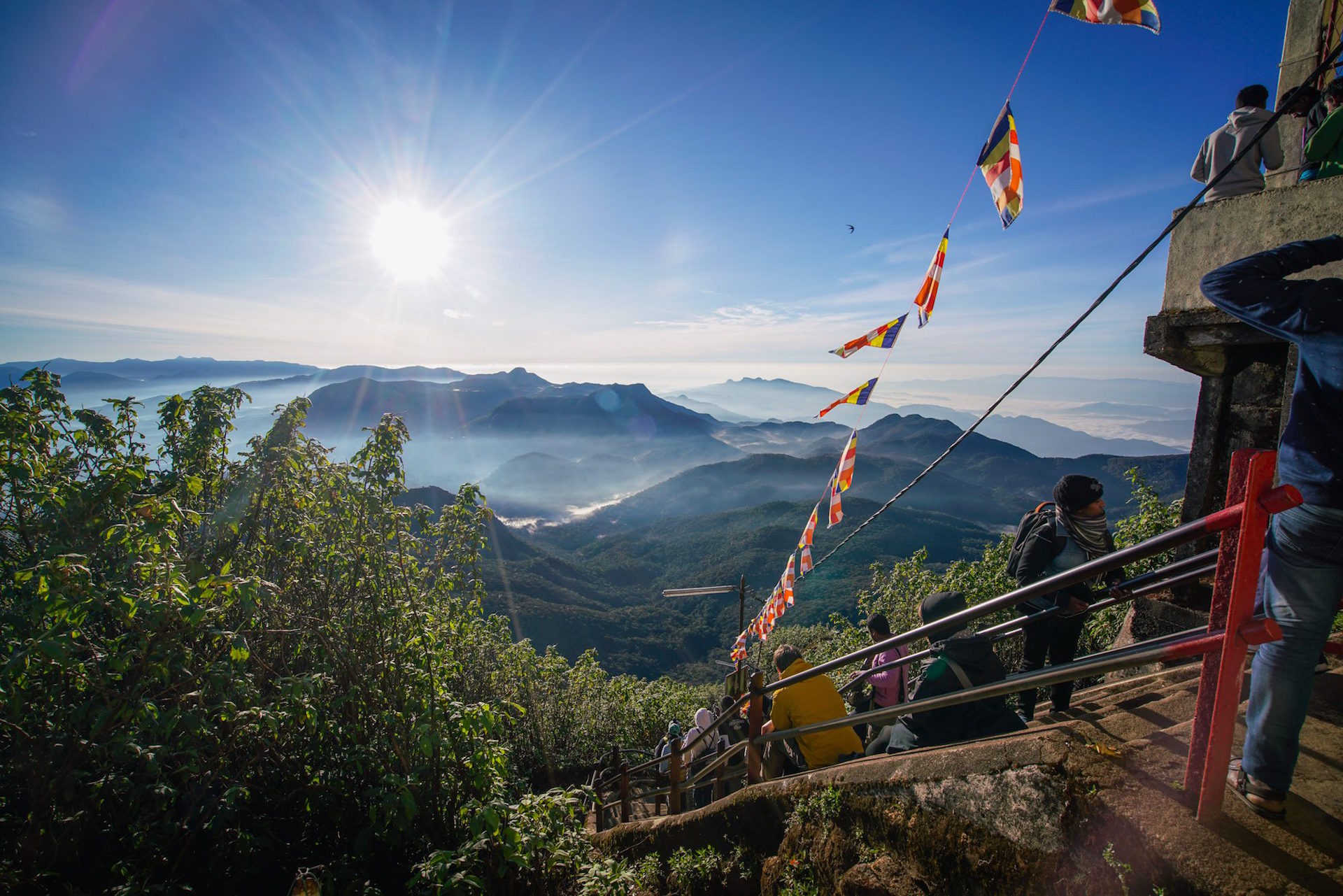 Source: http://www.mikavagrant.com/the-5500-step-pilgrimage-to-adams-peak/ 
Yala National park
The place to be if you want to see real wildlife. You can meet leopard, elephants, crocodiles, peacocks, buffaloes, wild pigs etc. Yala is located on southeast part of Sri Lanka. There are plenty of offers for safari tours in Yala.
Delft island
This place is so strange, sad and beautiful at the same time you can§t imagine.
Located approximately 30 kilometres away from the main land. You transport there via ferry. It is a magnificent island with rich history from the Chola Dynasty, Portuguese, Dutch and the British Colonial Period.

Wild horses on Delft island, Source: http://www.sundaytimes.lk/140223/plus/on-the-heels-of-the-wild-beauties-of-delft-86456.html
Sigiriya
Sigiriya is one of the most valuable historical monuments of Sri Lanka.
This is probably the most visited tourist destination of Sri Lanka.
Locals refer this is the Eighth Wonder of the World. This ancient palace and fortress complex has significant archaeological importance and attracts thousands of tourists every year.
Between the towns of Dambulla and Habarane there is palace located in the heart of the island on a massive rocky plateau 370 meters above the sea level.
Sigiriya rock plateau is formed from magma of an extinct volcano and it is 200 meters higher than the surrounding jungles.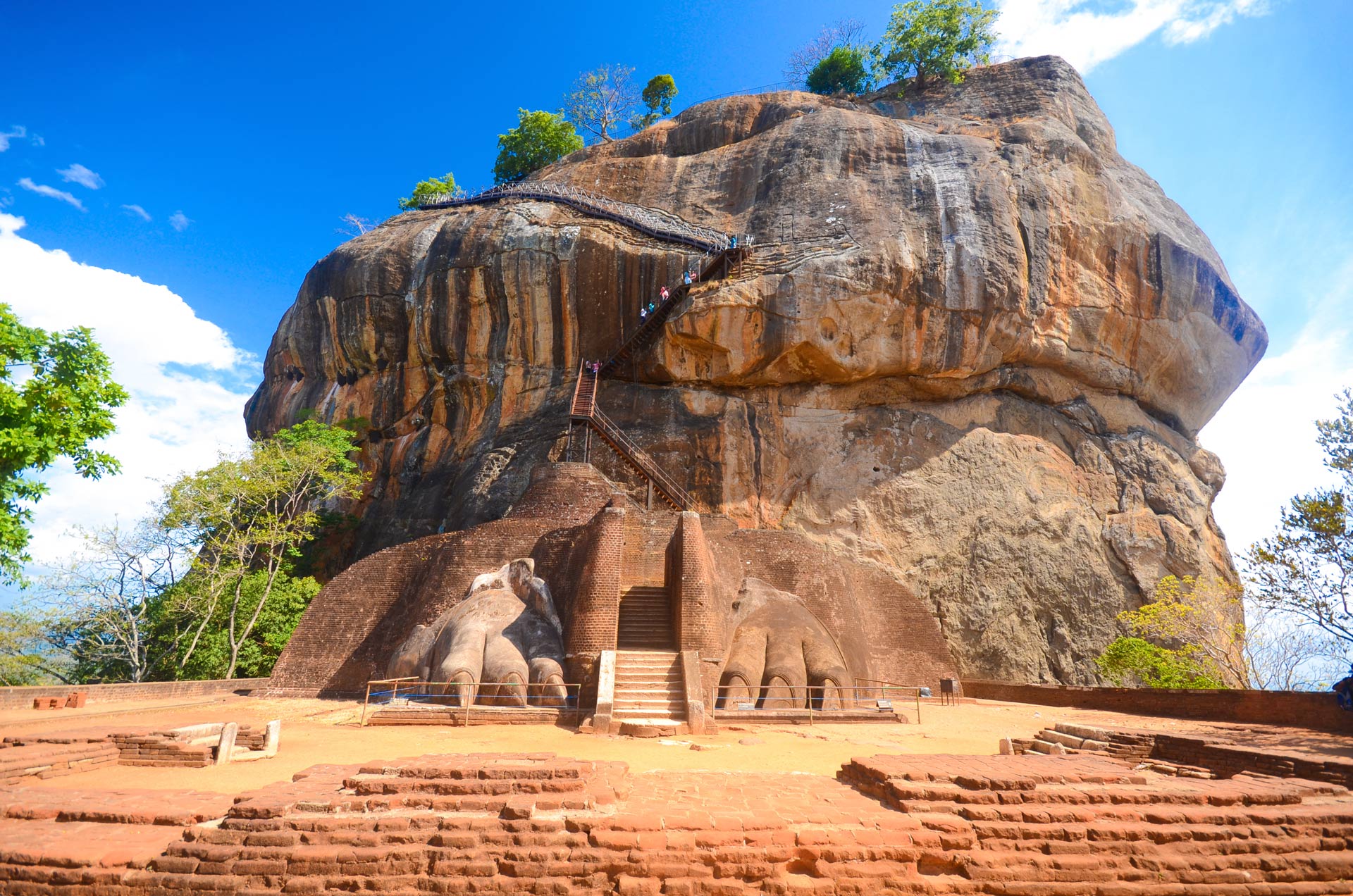 Source: https://www.ab-road.net/asia/sri_lanka/sigiriya/guide/sightseeing/07256.html
Galle
If you put together rich culture and beautiful beaches you may be lucky to witness a unique fishing phenomenon!
Stilt fishing is a method of fishing unique to the island country of Sri Lanka. The fishermen sit on a cross bar called a 'petta' tied to a vertical pole and driven into the sand a few meters offshoreOn the southwest coast of Sri Lanka is located city Galle known for Galle Fort, the fortified old city founded by Portuguese colonists in the 16th century. Stone sea walls, expanded by the Dutch, encircle car-free streets with architecture reflecting Portuguese, Dutch and British rule. Galle Lighthouse stands on the fort's southeast tip.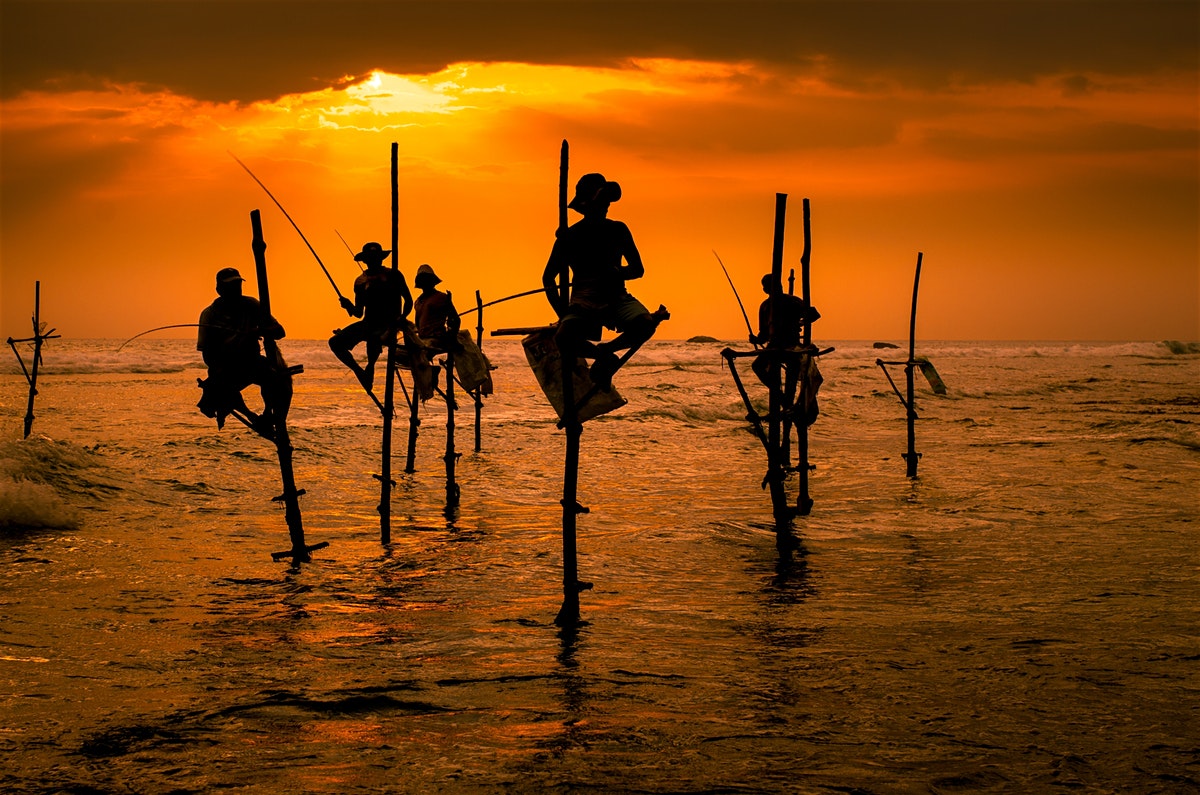 Stilt fishing in Galle, Source: https://lonelyplanetimages.imgix.net/a/g/hi/t/26db9ca350cdcc85f7eeec43716ca77f-galle.jpg?sharp=10&vib=20&w=1200
Wolfare- Travelling has never been easier  
Kandy and the hill country
Kandy is second largest city in Sri Lanka and it is about a 3-hour drive from Colombo. This up up-hill beautiful place is surrounded by beautiful tea plantations and mountains. Temperatures in Kandy are between 19 – 28C all year around.
You can relax in botanical gardens, admire buddhist temples, eat delicious food and travel one of the most beautiful train rides in the world.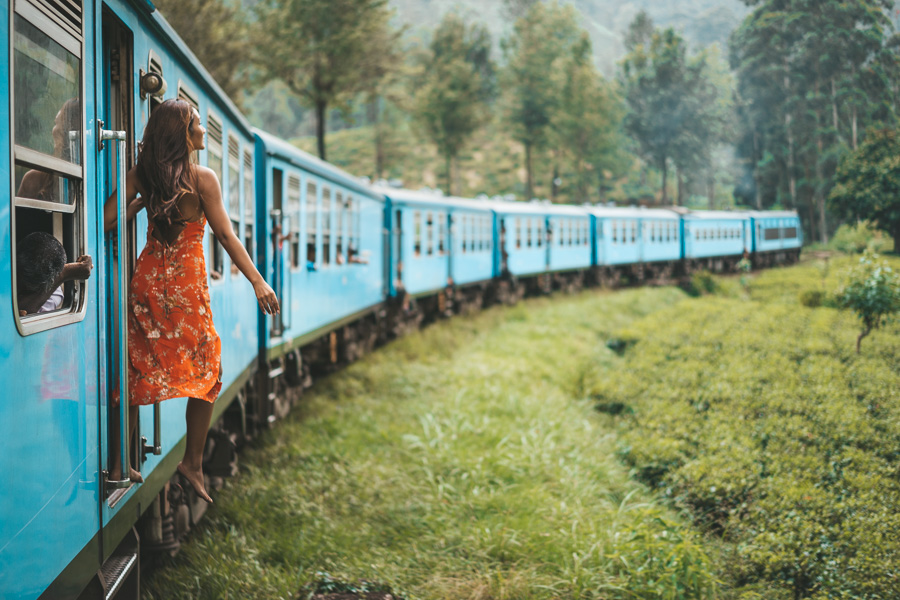 Kandy to Ella train, Source: https://www.journeyera.com/kandy-ella-train-scenic-train-sri-lanka/
2. Transport
In Sri Lanka you will mostly use tuk tuk (on the picture below) to transport for short distances. On longer distances there are public buses and trains available. Most of the roads are paved. However not all and if you want to visit less touristic places you probably must count on off road traveling. 
If you want to catch a tuk tuk just wave on the driver and they will stop by, same it is with buses.
For trains there are tickets sold in railway stations.
TIP: bargain bargain bargain! And if you want to go somewhere, agree on the price before and make sure that the driver really knows where you wanna go.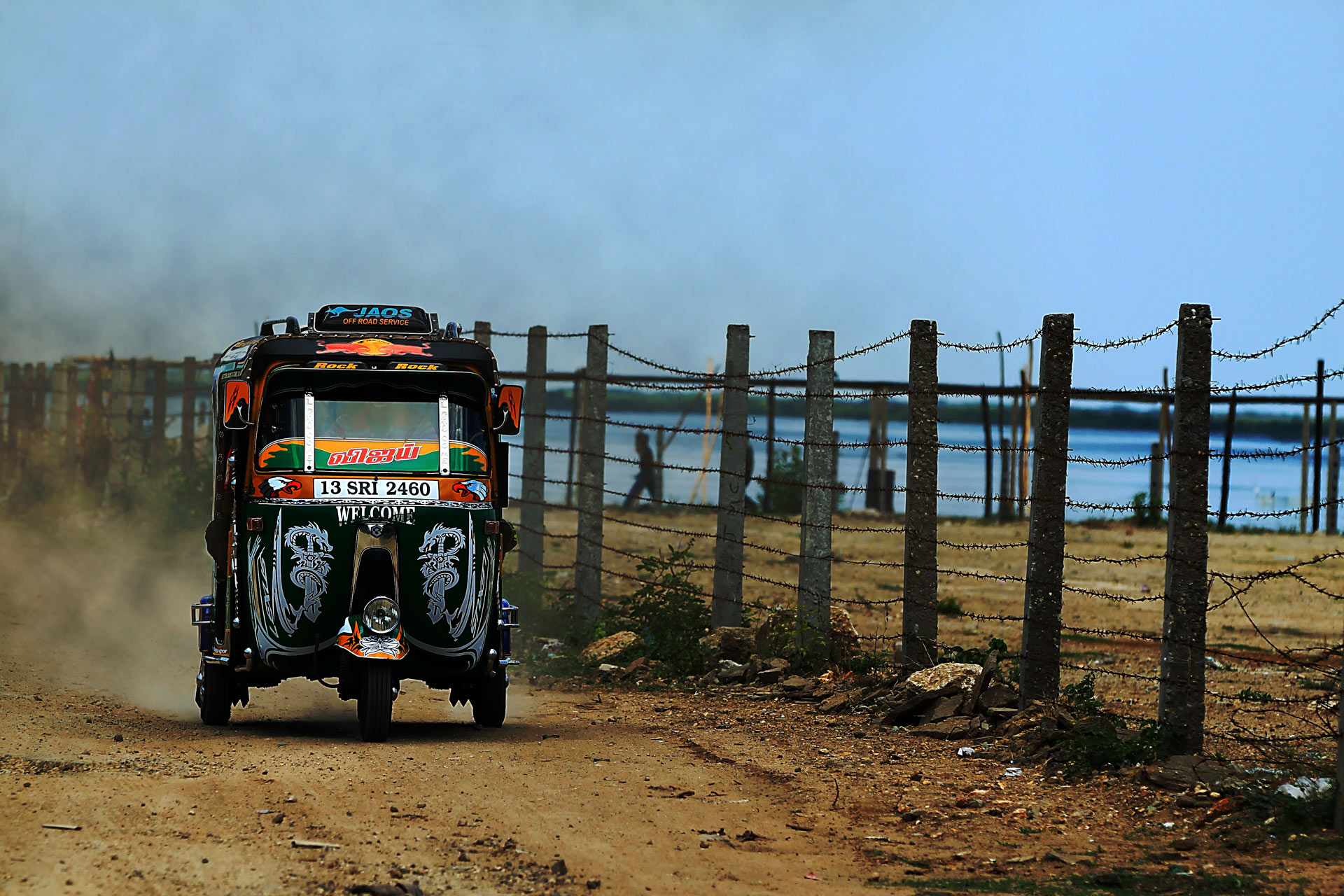 Tuk tuk is widely used in Sri Lanka
; Photo by Lenka Michálková
3. Accommodation
In Colombo there is a big community of expats who can accommodate you for couple of days, you can find them on couchsurfing.com
In other areas the accommodation is not that low cost but you can find some good deals on airbnb.com or classically on booking.com. Even if you come to some hostel you can book it right on the spot, but don't forget: bargain! 
4. Traditional food and meals
Rice&Curry is most common in Sri Lanka and you can find it everywhere. Kottu (meaning chopped bread) is another Sri Lankan dish made from godhamba roti (a type of Sri Lankan roti = bread) and vegetables, egg and/or meat, and spices. Definitely recommended to try.
There are lots of fruits and vegetables, which are fresh, sweet and juicy. You can drink fresh coconuts, they sell them on streets and enjoy all the tastes of spicy juicy Sri Lanka.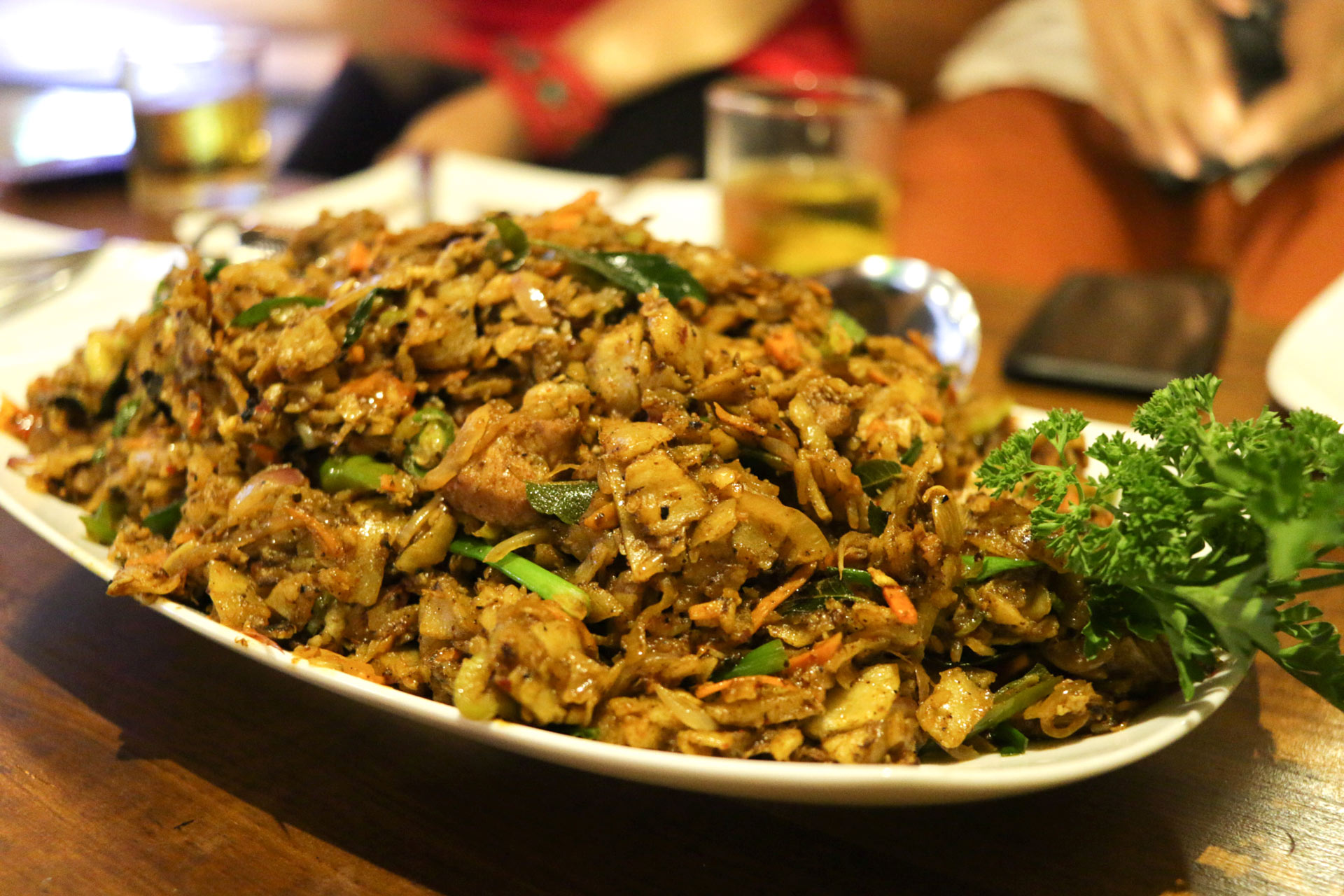 Source https://www.yamu.lk/blog/the-ultimate-kottu-showdown
5. Visas and licences
Most of the european countries may enter with ETA visa for 30 days and may prolong the stay to up to 6 months.
For updated and more precise info please visit: https://www.eta.gov.lk/slvisa/visainfo/center.jsp?locale=en_US
 6. Vaccinations
If you are planning to stay for short period of time there are usual recommended vaccinations for Sri Lanka include childhood diseases (Tetanus, Diphtheria and Poliomyelitis, Measles, Mumps and Rubella) as well as cover against the food and waterborne diseases of Typhoid and Hepatitis A. For those trekking in the Sri Lankan please include Hepatitis B and Rabies.
For more actual info visit https://wwwnc.cdc.gov/travel/destinations/traveler/none/sri-lanka
If your trip is very specific, for example if you are pregnant, this page may help you to decide further.
https://www.vaccines.gov/travel/index.html
7. Health care
Make sure you have travel insurance because the health care for non-locals may cost you quite a lot. You can visit any doctor public or private but more comfortable will be the one who speaks english if you don't speak Sinhalese or Tamil. In Colombo you can find many. However in other parts of Sri Lanka it is not that common. Ask locals to recommend you doctor for internationals or expats.
Wolfare- All you need when you want to travel  
8. Required equipment: what do you need to pack
 Please pack repellent, best a very good one. It will be your best friends which protects you against mosquitoes and leeches if you plan to go trekking. Good trekking shoes and thermal clothes will help you if you for example want to go on Adam's peak, where you walk during the night and it is a bit colder, but then after sunrise it gets really hot.
9. Insurance: in case it is necessary 
 Have a travel insurance.
10. Weather conditions
Best time to visit Sri Lanka is between March and May, but don't worry there is fairly constant temperature during the whole year with coastal regions enjoying average temperatures of 25-30°C and the highlands 15-18°C on average. The weather in Sri Lanka is dictated by two monsoon seasons which bring rain to the west and south-west coasts from May to September; and the east coast and northern region between October and February. The rest of the year is sunny and dry.
11. Dangerous places
There are still places which are closed for visitors, due to stil quite recent civil war. Please ask information centre or locals who speaks english if you plan to go to "not very touristic place"
The place I recommend and it is freshly open to tourists is Delft island. There you can smell the taste of real Sri Lankan life without "tourists apathy" Although it is pretty sad place as inhabitants still remember the bitter taste of war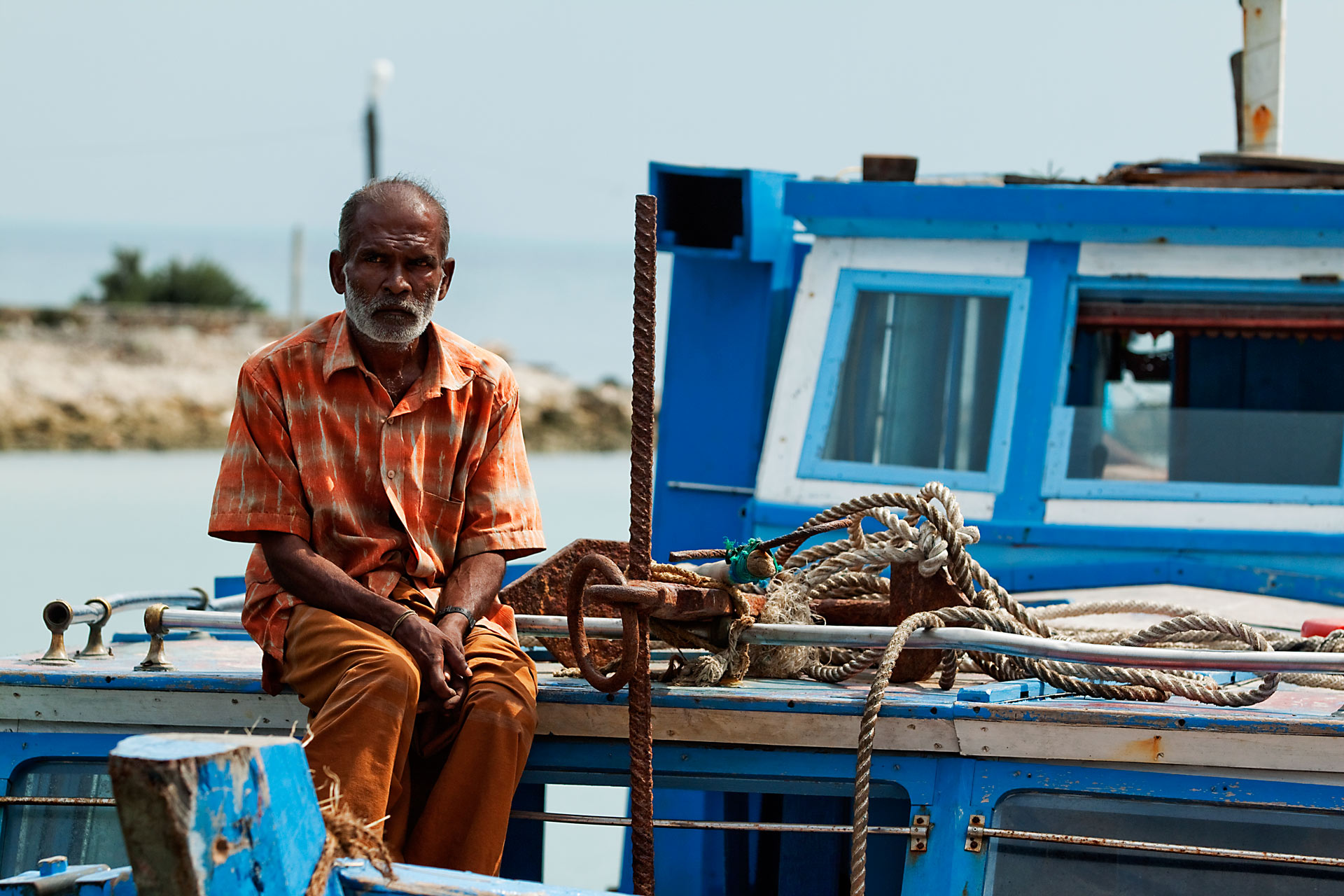 Delft island, Sri Lanka; Photo by Lenka Michálková
 12. Political situation, safety and criminality in the country
 If you are "white woman" it is recommended to not walk during the nights on the streets alone. Unfortunately white women are perceived in this part of the world as sexual objects. If you are travelling alone you can experience unpleasant situations in crowded buses.
 13. Additional information: brief and concise
Shaking Your Head "No" Actually Means Yes
You can start noticing that everyone agrees with you everywhere you go :) It is because when they shake with head from side to another it actually means no, not yes.
14. Main Facts
- Capital city: Sri Jayawardenepura Kotte (Administrative)
Colombo (Commercial)
- Currency: Sri Lankan rupee (LKR)
- Official language: Sinhala, Tamil, English (recognised)
- Calling code +94
- Area: 65,610 km²
- Time Zone: SLST (UTC+5:30)
- Drivers: left side
- Religion:
70.2% Buddhism
12.6% Hinduism
9.7% Islam
7.4% Christianity
0.1% Other/None[3]
Written by Lenka Michálková

Wolfare- All you need when you want to travel