Formerly the colony of British Honduras, Belize is the only country in Central America without a coastline on the Pacific Ocean (only the Caribbean Sea to its east), and the only one in the region with English as its official language. The country is located between Guatemala to the west and south and Mexico to the north.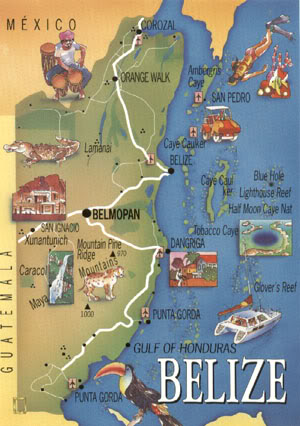 1. Where to go
- attractions, museums, interesting areas, non-commercial curiosities
Forget museums and galleries – Belize is all about the great outdoors. Despite its small land area, an extraordinary variety of national parks and wildlife and marine reserves provides an incredible stage for the adventure traveller, whether diving, hiking or caving.
BEACHES & RELAX
This is the Caribbean, so you'll more than likely spend at least a few days soaking up some rays and dipping your toes in the turquoise blue.
Caye Caulker
The ultimate chill-out destination, with a laid-back village vibe and easy access to the sea. In place of hassles, it offers balmy breezes, fresh seafood, azure waters and a fantastic barrier reef at its doorstep. The easygoing attitude is due in part to the strong Creole presence on the island, which pulses to a classic reggae beat and is home to a small community of Rastafarians.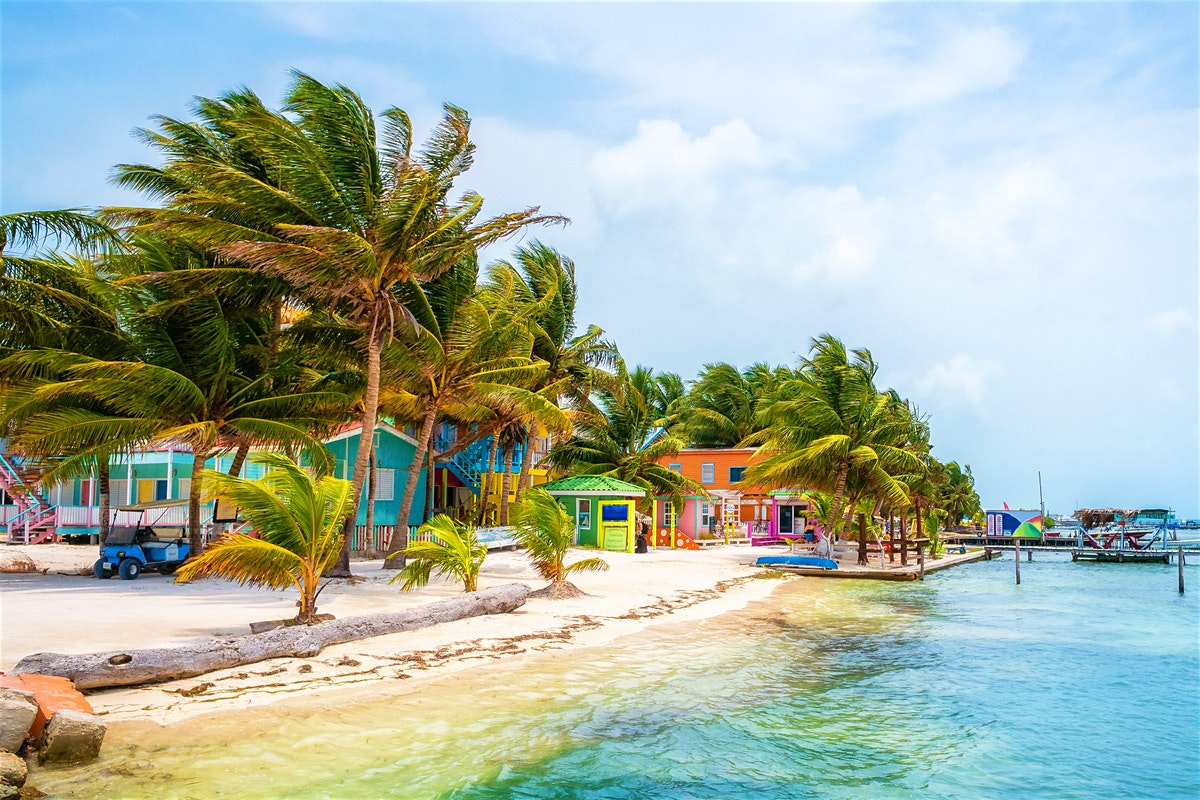 Source: https://lonelyplanetimages.imgix.net/mastheads/79078159.jpg?sharp=10&vib=20&w=1200
Ambergris Caye
If busy San Pedro is too much, head to one of the North Island resorts or seek out Secret Beach.
Complaints about over-development aside, Ambergris Caye remains an archetypal tropical paradise where sun-drenched days are filled with fruity drinks and water sports. There are plenty of simple pleasures to be had, from riding a bike along a windswept beach path to wading in crystal-clear waters. And the island's most valuable asset, the flourishing barrier reef a half-mile offshore, is the epicentre of the country's snorkelling and diving industries and the source of its most imaginative culinary scene.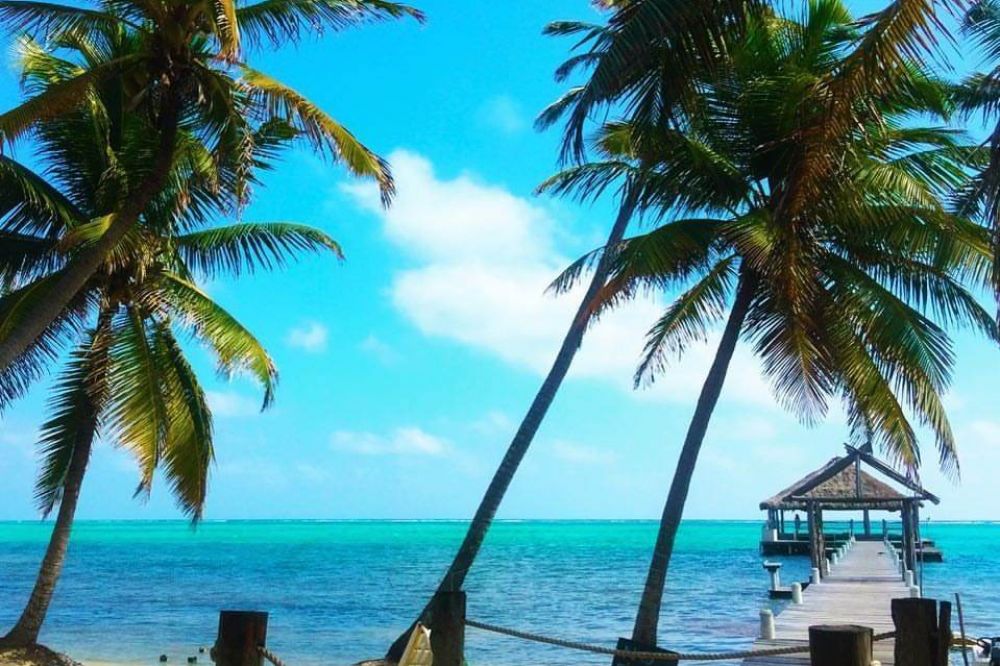 Source: https://bookretreats.com/assets/photo/center/0m/1k/1521/p_74306/1000_1506359728.jpg
Hopkins
Narrow but inviting beaches, village vibe and much less tourist traffic than nearby Placencia. This friendly, slightly scruffy, coastal village attracts travellers looking to soak up sea breezes and Garifuna culture. It's an unpretentious place to meet other travellers or satisfied expats and makes a good base for explorations to the cays, reefs and islands to the east, and the jungles, mountains and parks to the west.

DIVING & SNORKELING
Life under the sea is dramatic and diverse, from the fantastical coral formations and the kaleidoscopic fish that feed there to the massive and sometimes menacing creatures that lurk in deeper waters.
Glover's Reef
The reef, offering some of the most pristine diving and snorkelling opportunities in Belize, is pretty much as far from mainland Belize as you can get. Lying like a string of pearls in a blue sea, Glover's consists of half a dozen small cays of white sand, palm trees, and a handful of low-key resorts, diving and kayaking bases.

Source: https://islamarisolresort.com/wp-content/uploads/2018/12/belize-glovers-reef-diving-tours-1200x560.jpg
Wolfare- All you need when you want to travel  
Blue Hole Natural Monument
Seen from the sky, this national landmark is an incomparable natural wonder and unique diving experience. In the 1970s, underwater pioneer Jacques Cousteau explored the sinkhole and declared the dive site one of the world's best. Since then the Blue Hole's image – a deep azure pupil with an aquamarine border surrounded by the lighter shades of the reef – has become a logo for tourist publicity and a symbol of Belize.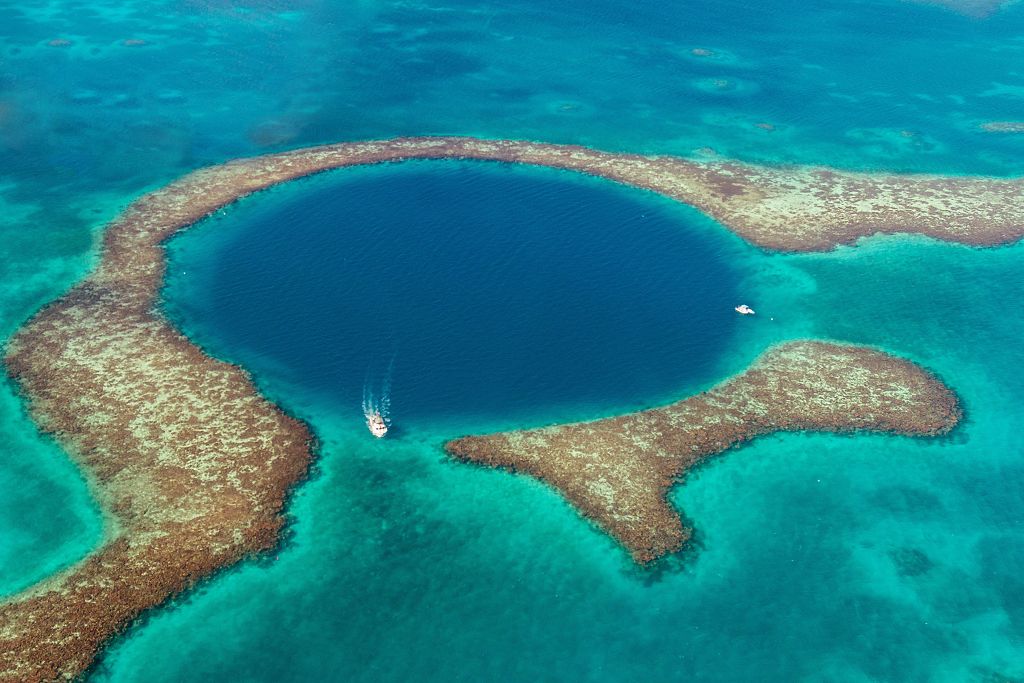 Turneffe Atoll
Belize's newest protected marine area, Turneffe Atoll, is the largest and most biologically diverse atoll in the Americas. At 30 miles long and 10 miles wide, the area is alive with coral, fish and large rays, making it a prime destination for diving, snorkelling and catch-and-release sport fishing.

CAVES
The erosive action of water on the relatively soft limestone of the Maya Mountains has produced numerous underground rivers and caves. Many of the caves were ritual sites for the ancient Maya, as they were considered to be close to the underworld.
Actun Tunichil Muknal
The Cave of the Stone Sepulchre is one of the most unforgettable and adventurous underground tours you can make in Belize. There you will see firsthand the evidence of the Maya rituals.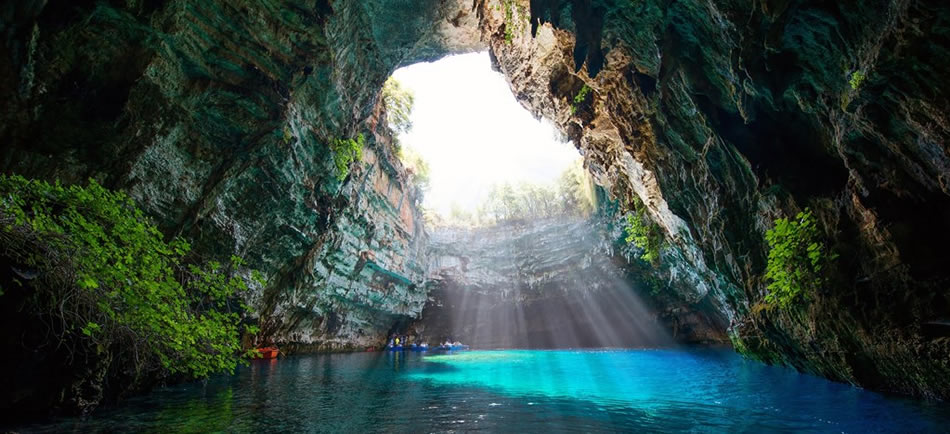 Source: http://ancientmayanruins.com/wp-content/uploads/2017/11/ActunTunichilMuknal.jpg
Nohoch Che'en Caves Branch
Archaeological reserve combines the mystery of spelunking with river-rafting through an underground network of caves. The Caves Branch River flows through nine caves, providing ideal conditions for floating through on a rubber tube or allowing for exploration of side passages that lead to other caves, such as the spectacular Crystal Cave.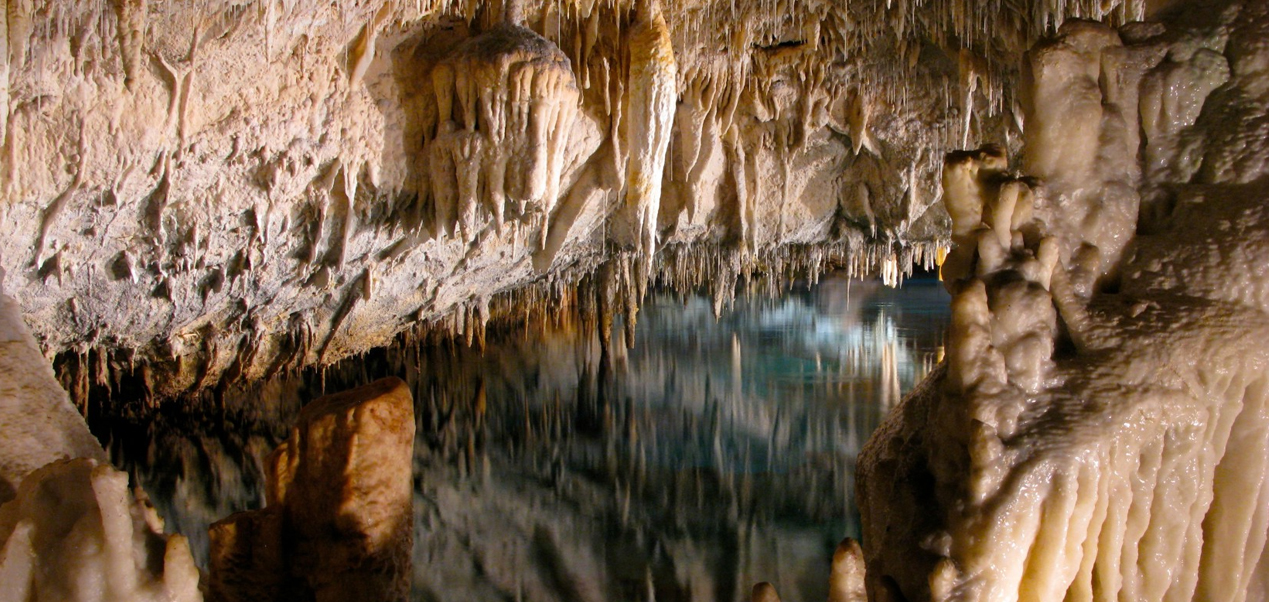 Source: http://mundomayabelize.com/img/preview-images/roomgallery_cave1.jpg
Barton Creek Cave
Barton Creek rises high in the Mountain Pine Ridge and flows north to join the Belize River near Georgeville. Along the way it dips underground for a spell, flowing through the Barton Creek Cave. Canoe trips take you (in groups of eight or fewer per guide) about 800ft into the cave so you can get a look at the limestone cave formations, as well as the spooky skulls, bones and pottery shards that remain from the Maya.
WILDLIFE
Wildlife is the star of the show in Belize, thanks to conservation of the forests and reefs, where 25% of the land area is protected. From monkeys to manatees, you can see these creatures in their natural habitat.
Belize reef
The Belize Barrier Reef sits just miles off the coast of Belize and is part of the larger Mesoamerican Barrier Reef, second in size only to the Great Barrier Reef in Australia. Home to hundreds of species of coral and fish, it is a hot spot for divers, snorkelers and biologists from all over the world.
For 185 miles, explore all that the reef has to offer, including swimming with whale sharks near the Placencia coast, diving deep into the Great Blue Hole and snorkelling off more than 400 white sandy islands that surround the reef.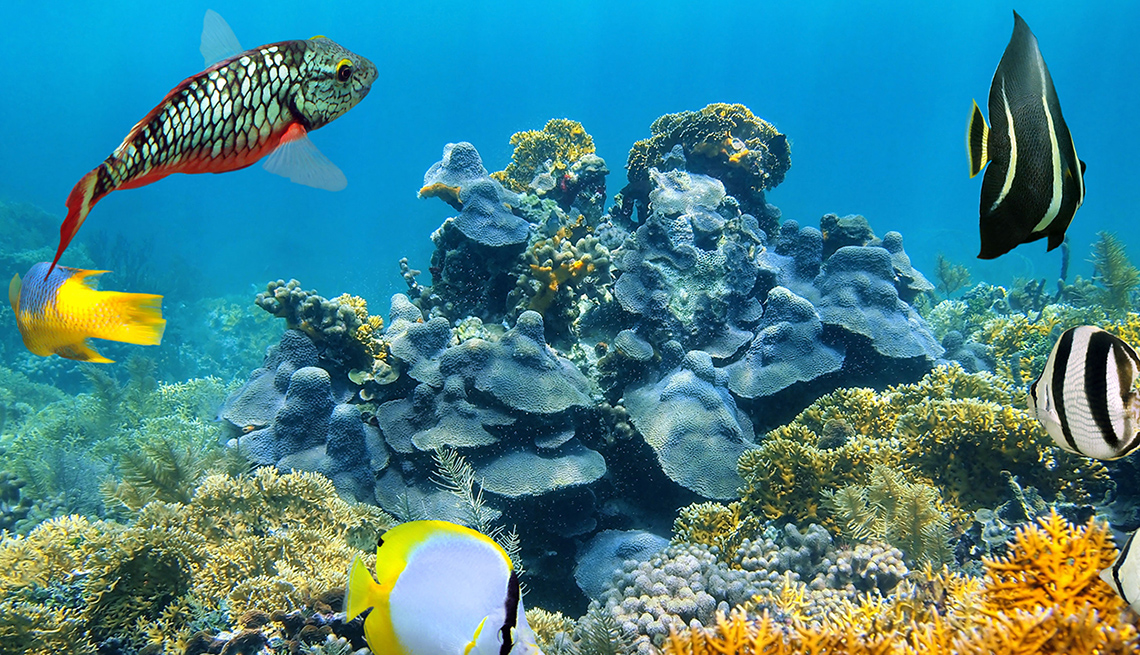 Source:https://cdn.aarp.net/content/dam/aarp/travel/destinations/2017/12/1140-fish-coral-belize-barrier-reef.imgcache.reve35dc4aea74c0ee1efda711501efa031.jpg
Belize Zoo
This amazing, privately funded zoo houses wildlife that has been injured or rescued throughout the country. The zoo has many animals you're unlikely to see elsewhere – several tapirs (a Belizean relative of the rhino) including a baby, gibnuts, a number of coatimundi (they look like a cross between a racoon and a monkey), scarlet macaws, white-lipped peccaries, pumas and many others.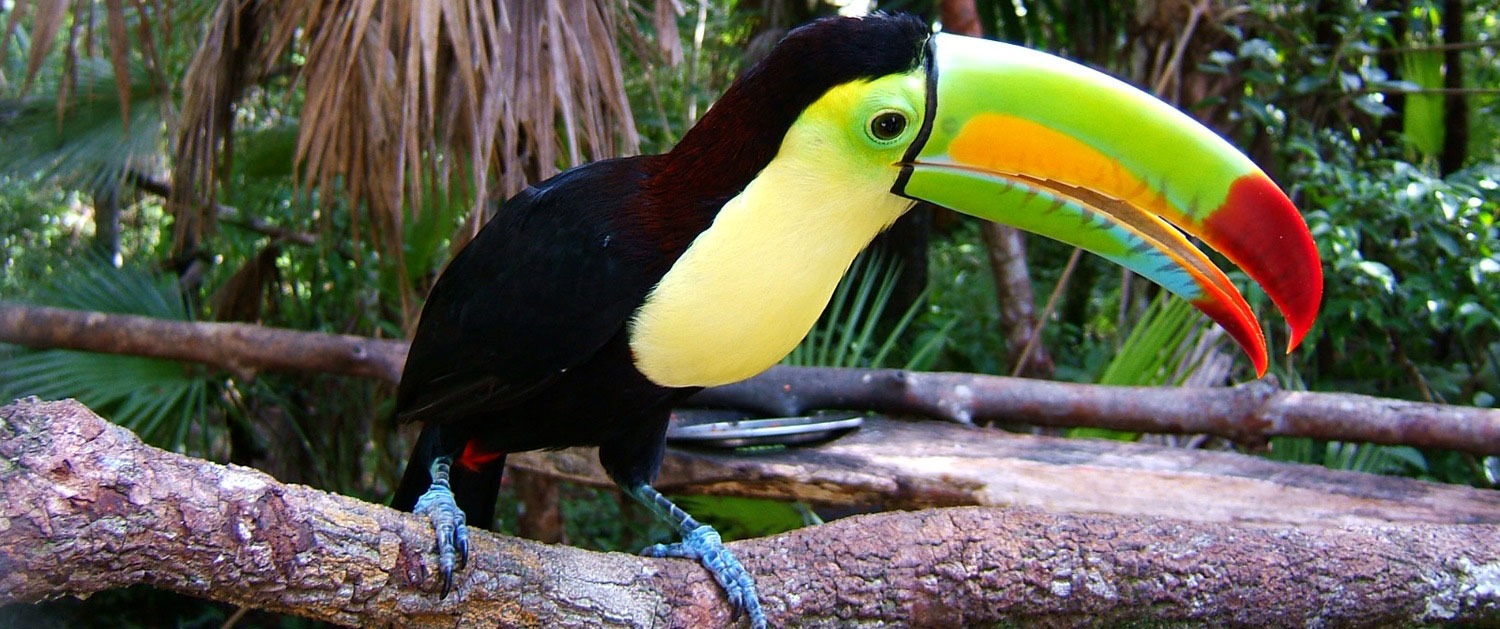 Community Baboon Sanctuary
No real baboons inhabit Belize; but Belizeans use that name for the Yucatán black howler monkey (Alouatta pigra), an endangered species that exists only in Belize, northern Guatemala and southern Mexico and is one of the largest monkeys in the Americas. The Community Baboon Sanctuary is a community-run, grassroots conservation operation that has engineered an impressive increase in the primate's local population.
Swallow Caye Wildlife Sanctuary
Here the ocean floor is covered with turtle-grass beds, which support a small population of West Indian manatees. As many as 30 manatees inhabit the shallow waters around Swallow Caye.
Cockscomb Basin Wildlife Sanctuary
Also known as the jaguar reserve, this is a fine place for birdwatching and perhaps a jaguar sighting.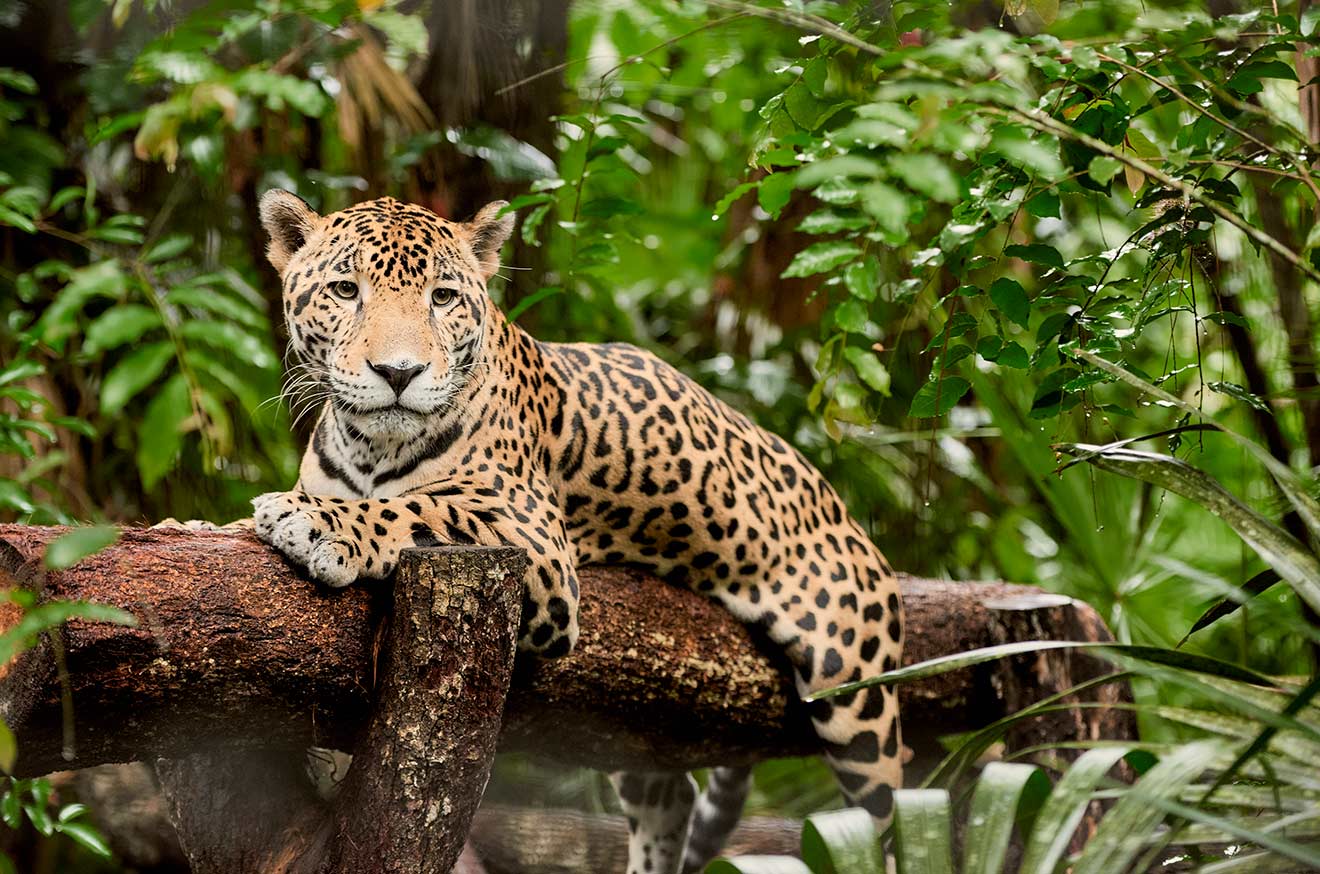 Source: https://www.ambersunsetbelize.com/wp-content/uploads/jaguar-belize-zoo.jpg
BIRDS
Birders know Belize. For everyone else with a spare pair of binoculars, there are 570 resident and migratory species, inhabiting the shores of the rivers and lagoons or deep in the forest.
Crooked Tree Wildlife Sanctuary
Between November and April, migrating birds flock to the lagoons, rivers and swamps of the massive Crooked Tree Wildlife Sanctuary. The lagoon is home to hundreds of bird species, including jabiru storks.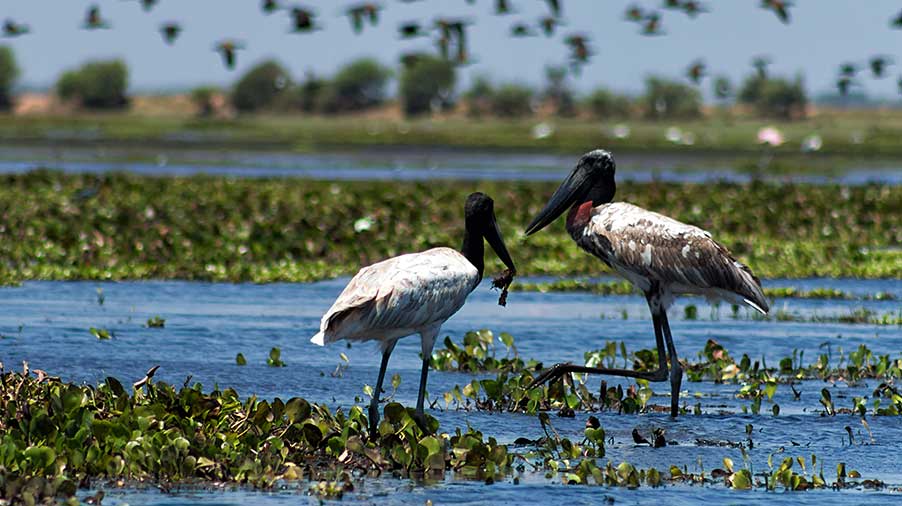 Source: http://www.belizeaudubon.org/wp-content/uploads/2014/02/bas_crooked_tree_jabiru_stork.jpg
Wolfare- Connecting Travellers  
Red Bank
Home to the spectacular scarlet macaw, which feasts on the forest fruits from December to March.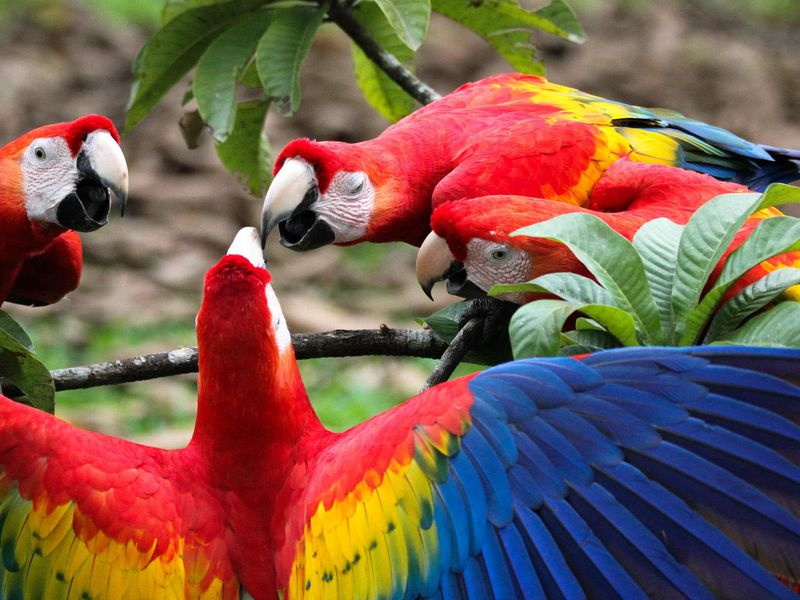 Source: http://creaspic.pw/The-Dark-Secrets-of-the-Bird-World-nature-t-Parrot.html
Río Bravo Conservation & Management Area
Spot birds as varied as the collared aracari, oscillated turkey, rufous hummingbird and turkey vultures.
OUTDOOR ADVENTURE
Come to Belize for action and adventure, to mount seemingly insurmountable temples, to dive to the ocean's darkest depths, and to feel the sticky heat of the jungle and the salty air of the sea.
Deep South
Sometimes referred to as the 'forgotten district' of Belize, sleepy Toledo's pristine rainforests, traditional Maya villages and idyllic offshore islands remain largely untouched by tourism. The Deep South features lush jungles, crystal-clear swimming holes, waterfalls and Maya ruins.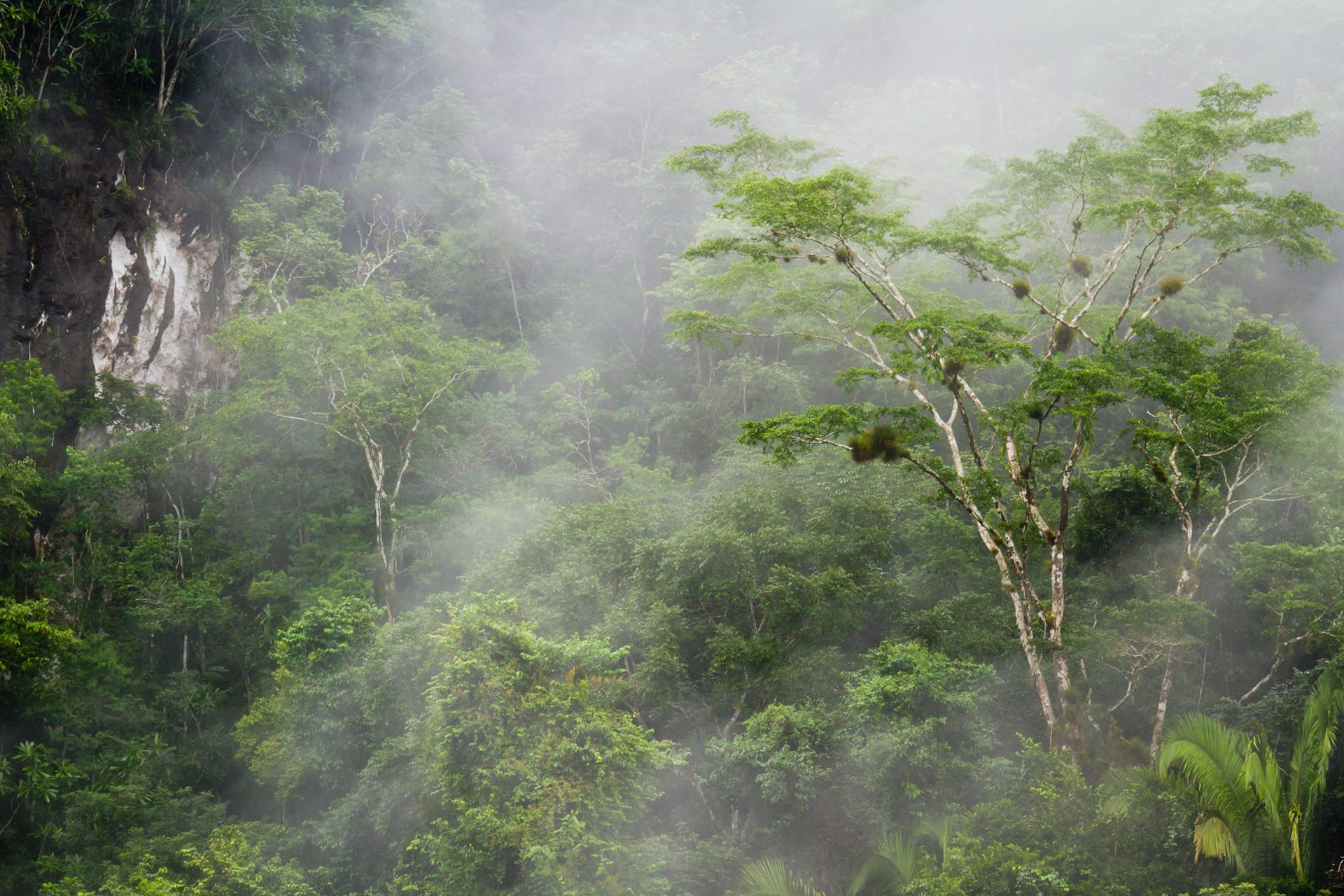 Source: https://www.cahalpech.com/wp-content/uploads-old/2017/12/Belize-Rainforest.jpg
Glover's Reef Islands
Islands ideal for hopping. Kayak the limpid waters, admiring the prolific marine life from above.

Cayo District
Cayo District is Belize's premier adventure and eco-activity region. The lush environs of the Wild West are covered with jungle, woven with rivers, waterfalls and azure pools, riddled with caves and dotted with Maya ruins ranging from small, tree-covered hills to massive, magnificent temples. Around San Ignacio, there are opportunities for hiking, horseback riding and caving.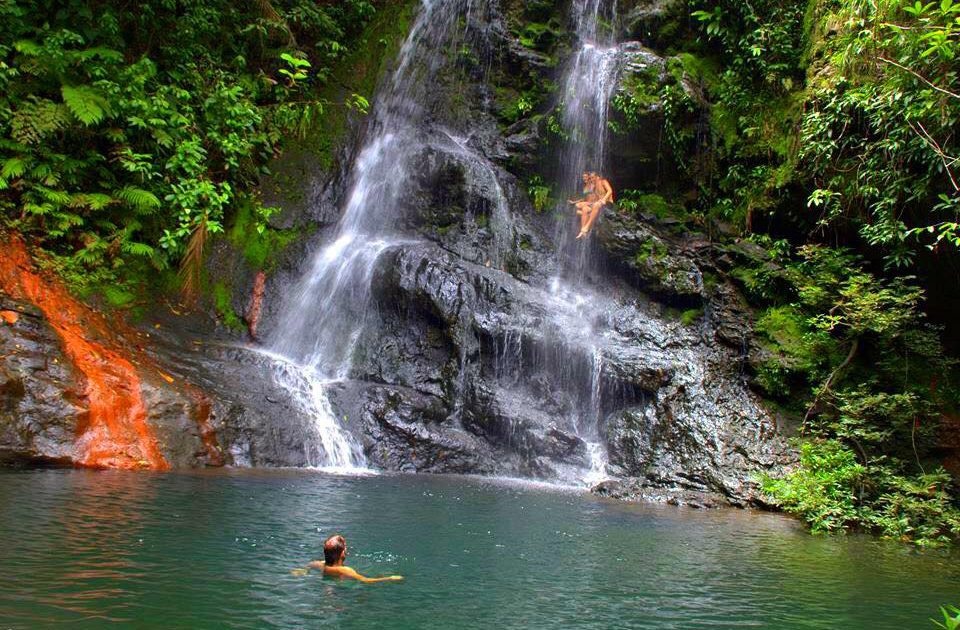 Source: https://www.imagenesmi.com/imágenes/belize-waterfall-swimming-5b.html
Shipstern Conservation & Management Area
Hiking trails, wildlife spotting and a boat trip on the lagoon make Shipstern an excellent adventure.
ECO-CHIC RESORTS
Ecotourism was practically invented here. Belize offers myriad ways for travellers to tread lightly and go off-grid, from beach resorts powered by solar energy to jungle lodges built from reclaimed hardwoods.
MAYAN RUINS
For almost 3000 years the ancient Maya civilization flourished in Belize, building towering temples as a tribute to their god-like rulers. The remains of these once-mighty city-states are scattered throughout the country and are prime for exploration.
Xunantunich
Set on a levelled hilltop, Xunantunich (shoo-nahn-too-neech) is one of Belize's most easily accessible and impressive Maya archaeological sites. Getting here is half the fun, with a free hand-cranked cable ferry taking you (and vehicles) across the Mopan River.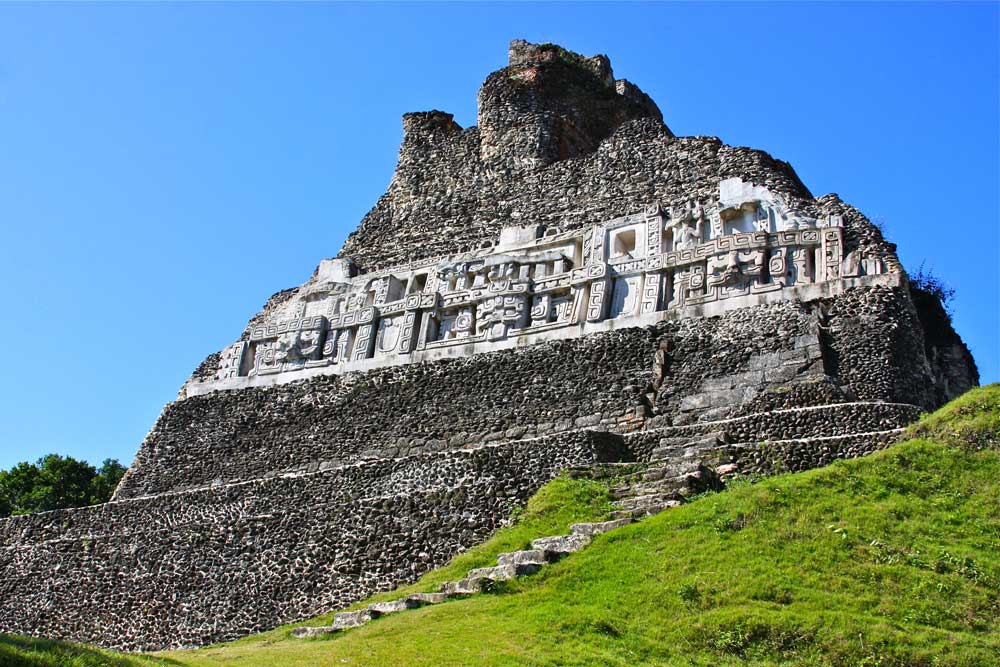 Source: https://www.cavesbranch.com/wp-content/uploads/2018/08/xunantunich-belize.jpg
Caracol
Once the most powerful kingdom of the Maya world, Caracol covers a vast, jungle-clad area.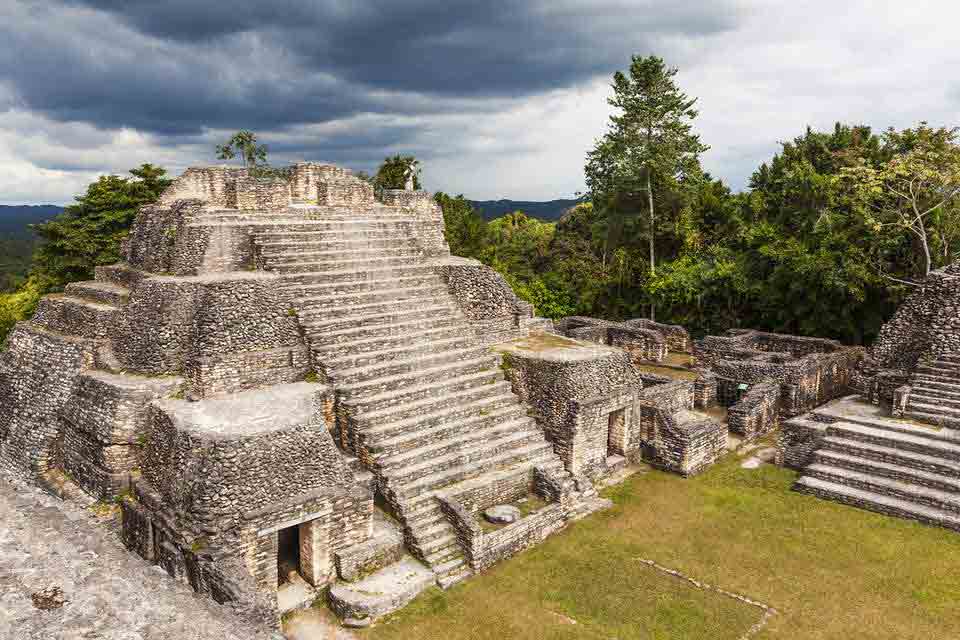 Source:https://www.tripsavvy.com/thmb/DN-tt1ZSxn61YrJ1Dg5Io7iF4Xo=/960x0/filters:no_upscale():max_bytes(150000):strip_icc()/GettyImages-542104287-595ac4055f9b58843fbbc45b.jpg
Lamanai Ruins
Lamanai are among the oldest and the largest Maya sites in the country. Follow the footsteps of the Ancient Maya civilization. Climb limestone temples built thousands of years ago and visit the on-site museum to learn more about the Maya.
2. Transport
- flights, trains, buses, metro, taxi, etc. - price overview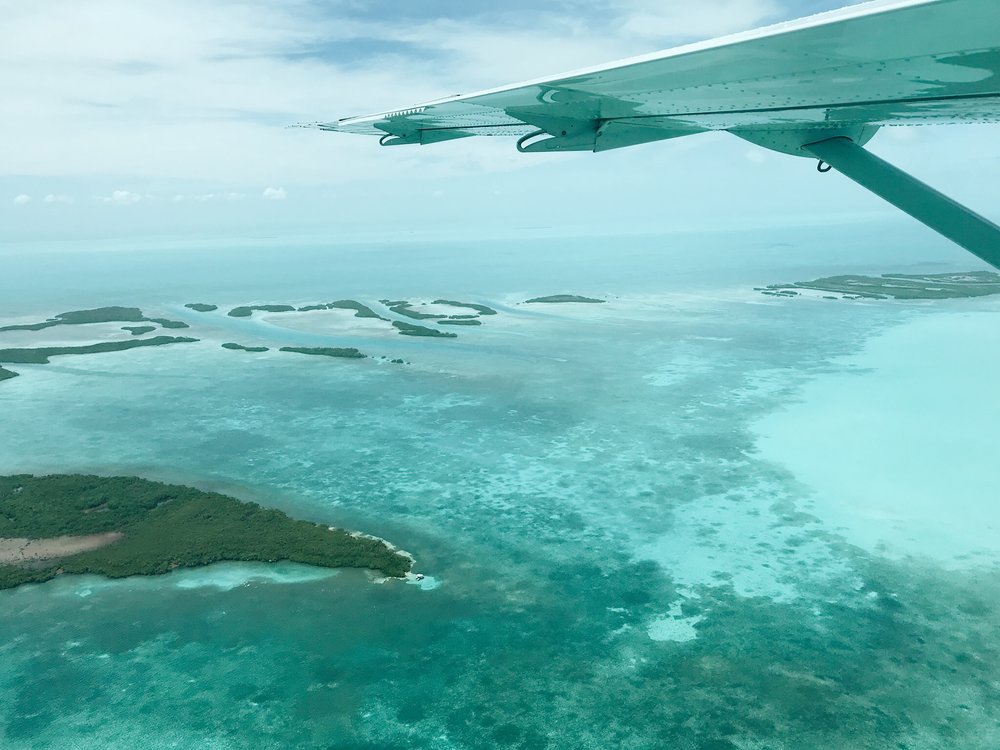 Source:https://static1.squarespace.com/static/58c17ac1e58c62c4d3b19282/t/5ad4da581ae6cf65f3a56c5d/1523898985661/Photo+Mar+30%2C+12+57+56+PM.jpg
BY PLANE
Philip Goldson International Airport, at Ladyville, 11 miles northwest of Belize City centre, handles all international flights. With Belize's short internal flying distances it's often possible to make a same-day connection at Belize City to or from other airports in the country.
The following airlines fly to and from Belize: Air Canada, American Airlines, Avianca, Copa Airlines, Delta Airlines, Southwest Airlines, Transportes Aeros Guatemaltecos, Tropic Air, United Airlines.
Due to Belize's location in Central America, there are no non-stop flights to the country from Europe. As a former British colony, Belize has always been a popular destination for Britons.
American Airlines now offers direct flights to Belize that depart from London's Heathrow Airport and make a stop in Miami, Florida before continuing on to Belize. Flights to Belize depart four times per week from Heathrow and have only a short layover in Miami before continuing directly to Belize City.
Departure Tax
Non-Belizeans pay fees that total US$55.50 when flying out of Belize City on international flights. This includes the US$3.75 Protected Areas Conservation Trust (PACT) fee, which helps to fund Belize's network of protected natural areas. Most major carriers include this tax in the price of the ticket.
BY CAR
From Mexico via Chetumal, or on a much rougher road from Guatemala via Melchor de Mencos.
Border Crossings
There are well-travelled land border crossings between Belize and Mexico to the north and Guatemala to the west. Border formalities are straightforward between both countries.
To bring a vehicle into Belize, you need to obtain a one-month importation permit at the border. This obliges you to take the vehicle out of Belize again within the validity of the permit. To get the permit you must present proof of ownership (vehicle registration) and purchase Belizean motor insurance (available for BZ$60 for one month from the insurance office at the border).
BY BUS
Buses from Belize City and Belmopan operate to Flores in Guatemala, and to Chetumal in Mexico. There is also an ADO express bus that goes all the way from Cancun to Belize City and back once a day. The Cancún bus stops in Playa del Carmen and Tulum and can drop passengers directly at Cancún airport on the return leg.
Boats, known locally as water taxis, are the primary means of transportation between the islands and the mainland and, of course, to barrier reef attractions.
3. Accommodation
- possibilities, rating - price overview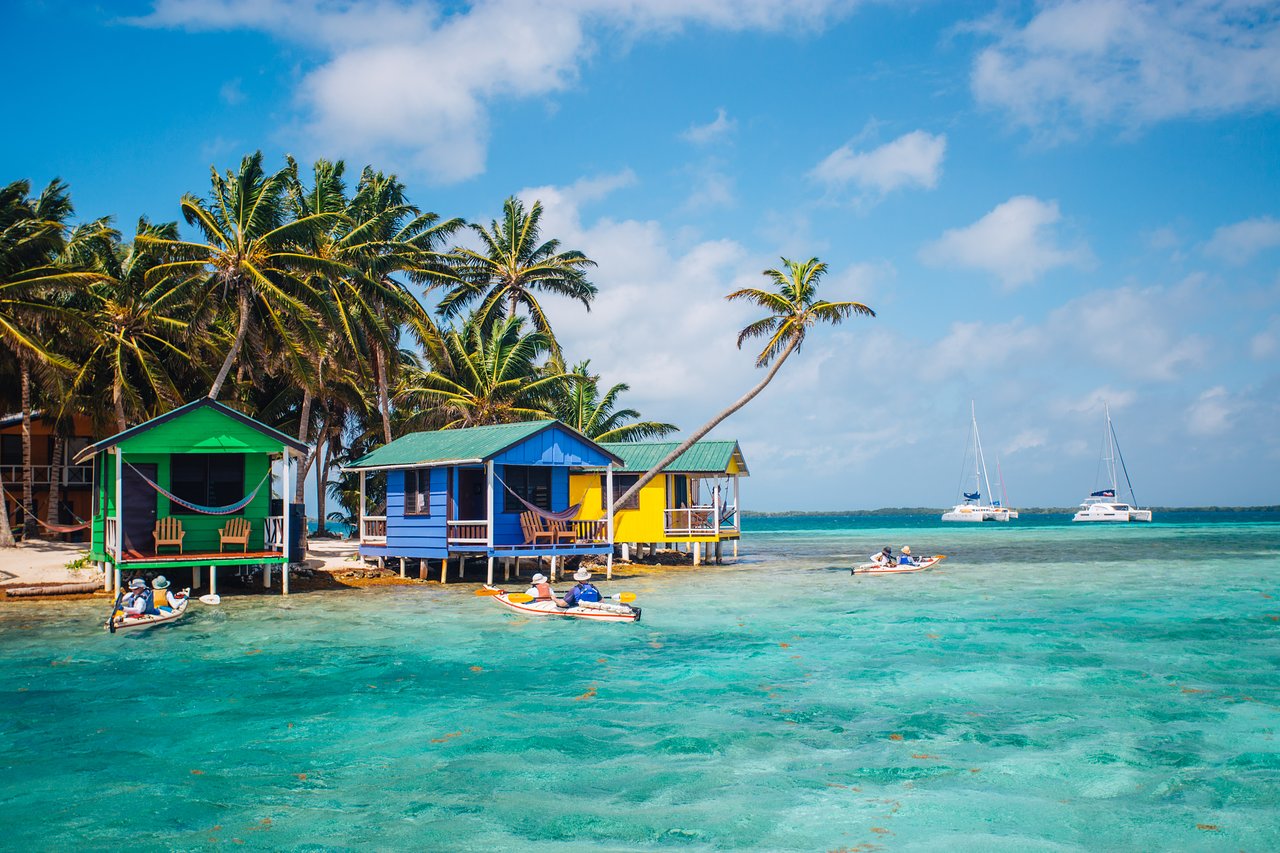 Source: https://media-cdn.tripadvisor.com/media/photo-m/1280/14/96/13/6e/tobacco-caye-paradise.jpg
In the main tourist areas, Belize has a fair range of accommodations in most categories. Away from the coast, options become more limited. Book ahead in high season.
Lodges and Resorts
The top level of accommodations in Belize are the remote jungle lodges and swish coastal island resorts, where the location is part of the attraction. In Belize the term 'lodge' usually means an upmarket resort-style hotel in a remote location, be it in the Cayo jungles or the offshore cays.
Most lodges focus on activities such as diving, fishing, horseback riding or jungle or river adventures, aiming to provide comfortable accommodations and good meals to sustain their guests between outings.
Many lodges have gorgeous island, beach or forest settings, and they tend to be on the expensive side, due mainly to their high standards and a wide range of amenities.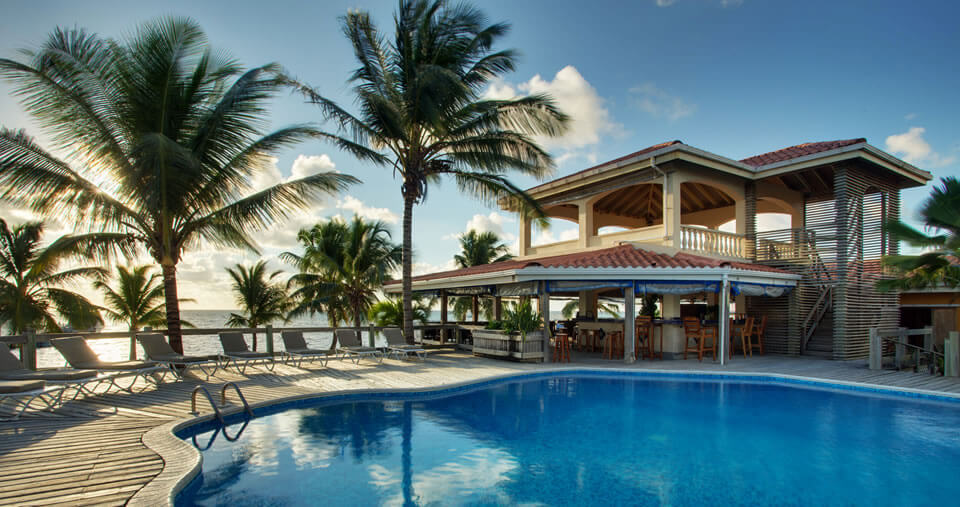 Source: https://www.sunbreeze.net/wp-content/uploads/2013/07/home_0061.jpg
Cabins and Cabañas
These two terms are pretty well interchangeable and can refer to any kind of free-standing, individual accommodations structure. You'll find cabins in every class of accommodations: they can be made of wood, concrete or brick, and be roofed with palm thatch, tin or tiles. They may be small, bare and cheap, or super-luxurious and stylish, with Balinese screens, Japanese bathrooms and Maya wall hangings.
Locales vary from beachside, riverside or jungle to on the grounds of a hotel alongside other types of accommodations.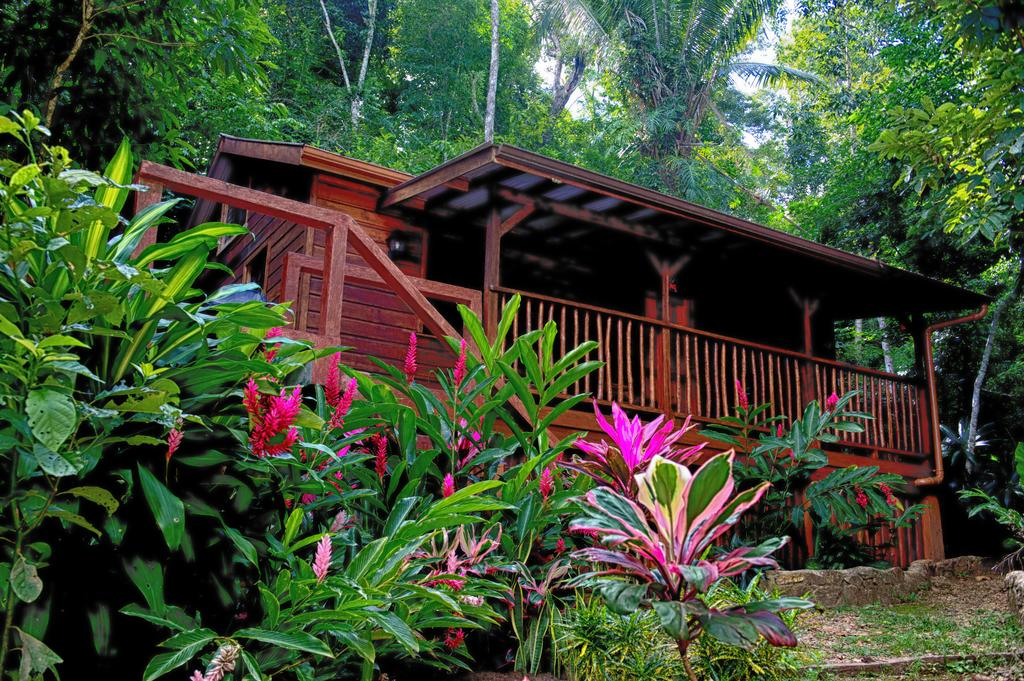 Source: https://s-ec.bstatic.com/images/hotel/max1024x768/120/120102230.jpg
Guesthouses
Affordable, welcoming, found in most towns and villages. The best value is usually provided by small, often family-run guesthouses. Only the cheapest budget options have shared bathrooms or cold showers. This also includes the few backpacker hostels providing dorm accommodations and camping.
Many places in the mid-price range have their own restaurants and bars and offer arrangements for activities, tours and other services.
Holiday rentals
Apartments, villas and houses that can be booked online. In main tourist destinations such as San Pedro, Caye Caulker and Placencia, there are houses and apartments for rent for short stays or by the week or month. If you plan a long stay, you'll certainly cut costs by renting your own place. Look out for real estate or rental offices but the easiest way to book ahead is to go online. Sites such as Airbnb (www.airbnb.com) and Flip Key (www.flipkey.com) have listings.
4. Traditional food and meals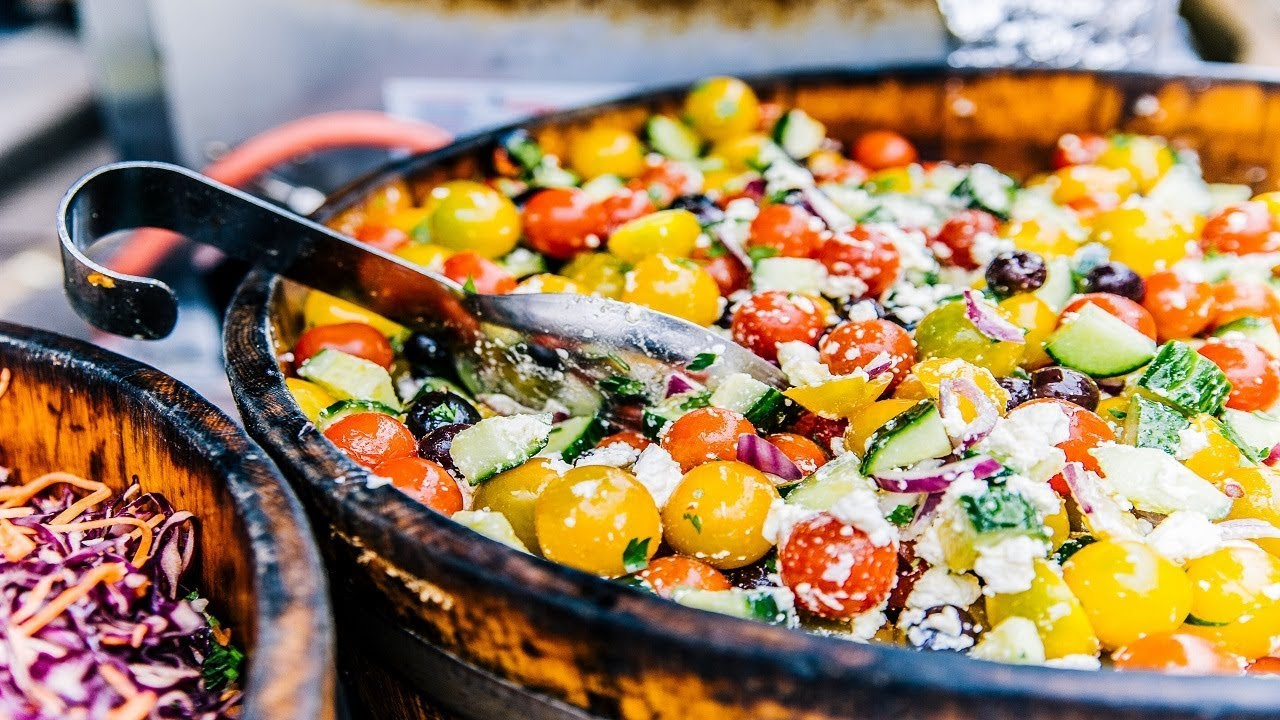 Source: https://i.ytimg.com/vi/cOgAiFVxBSE/maxresdefault.jpg
Belizean cuisine is an amalgamation of all ethnicity in the nation and their respectively wide variety of foods. It might best be described as both similar to Mexican/Central American cuisine and Jamaican/Anglo-Caribbean cuisine.
Breakfast typically consists of bread, flour tortillas, or fry jacks that are often homemade. Mealtime is a communion for families and schools and some businesses close at midday for lunch, reopening later in the afternoon.
Belize's national cuisine is rice and beans with chicken or fish; in the main tourist resorts and cities, you'll find a good range of international food. Bookings are only required at fancy places in high season and at resort restaurants.
Rice and Beans is a mixed dish with some spices, onion and usually, coconut milk added to make a sweet and hot staple of the Belizean diet.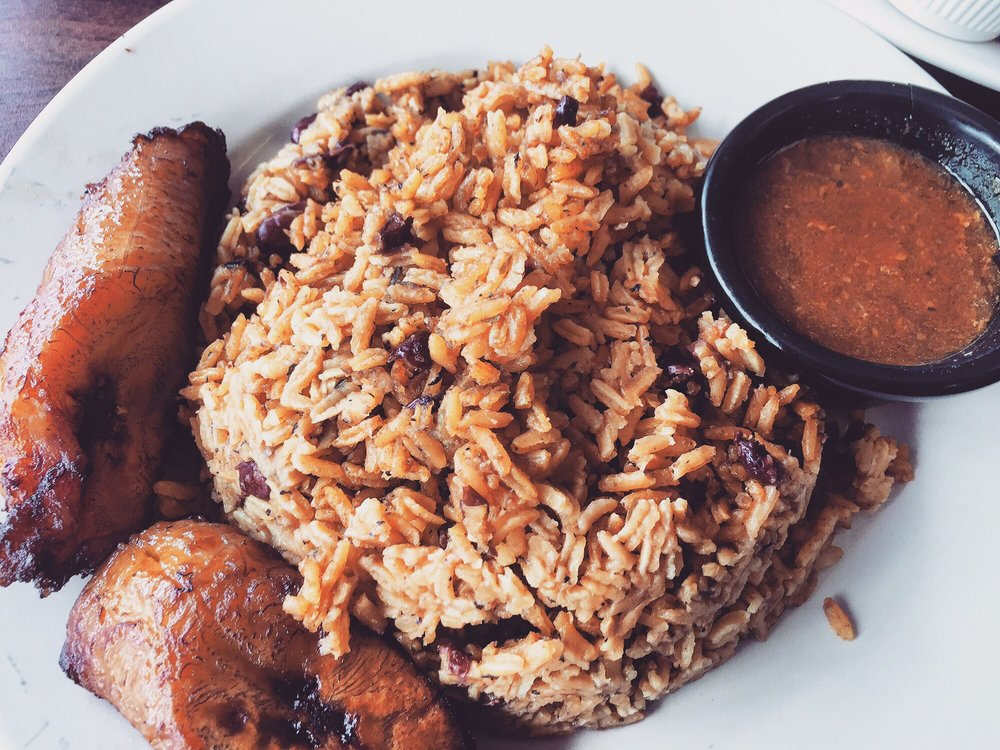 Source: https://garifunaflava.net/wp-content/uploads/2017/07/rice-beans-yelp.jpg
Citrus plantations are numerous, so fresh oranges and grapefruits are abundant. Pineapples, papayas, bananas and plantains are also grown and sold in roadside markets.
A famous hot sauce in Belize is Marie Sharp's made from the very potent local habanero pepper. It comes in a variety of flavours (mild, hot, extremely hot).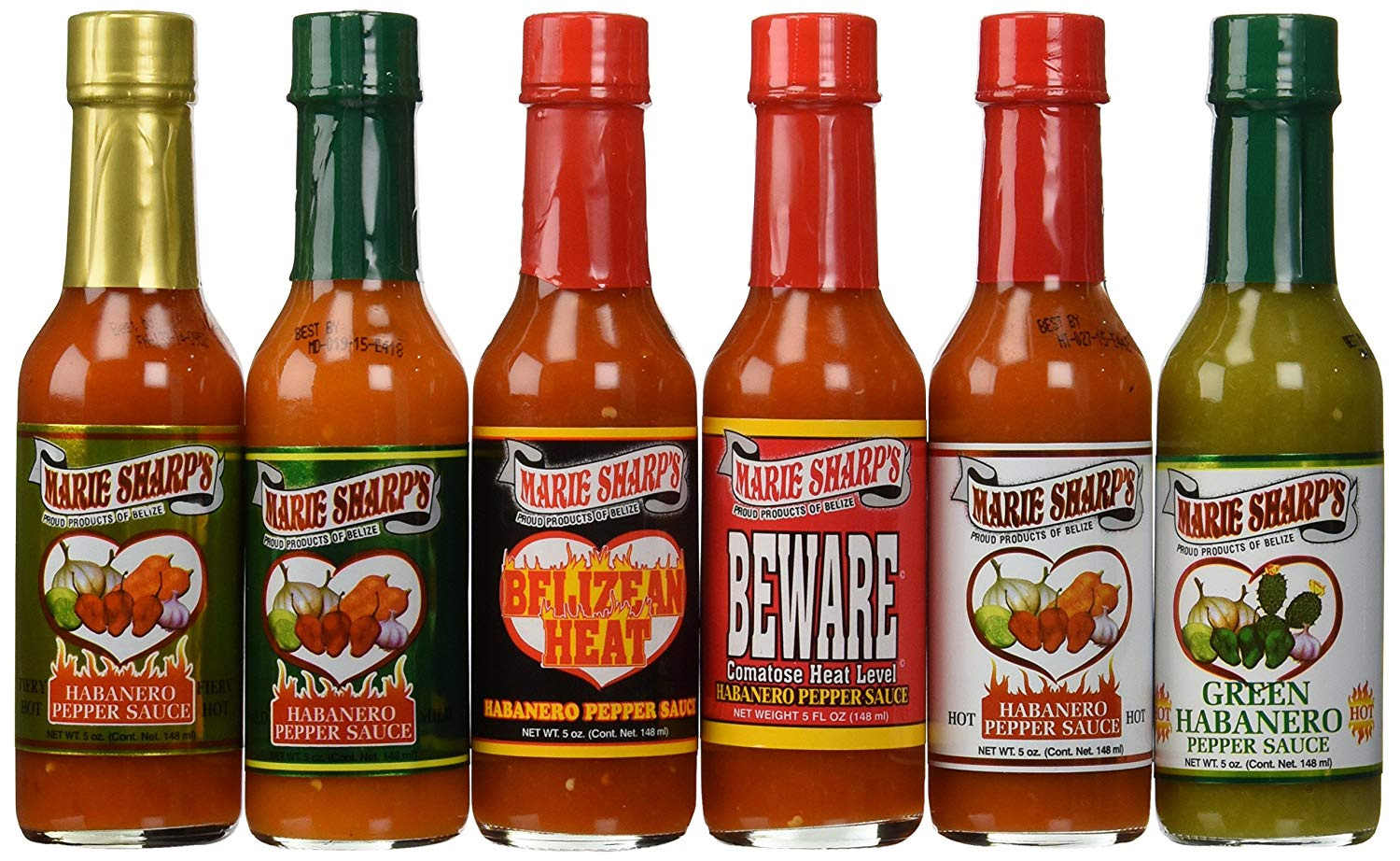 Source: https://images-na.ssl-images-amazon.com/images/I/91F9RGd1TAL._SL1500_.jpg
Eating in San Pedro can be expensive if you eat at the tourist restaurants however if you find the local places, meals can be very inexpensive and very tasty.
That odd looking salsa on your table is really ceviche. Ceviche -also spelt as cebiche or seviche- is a citrus-marinated seafood dish.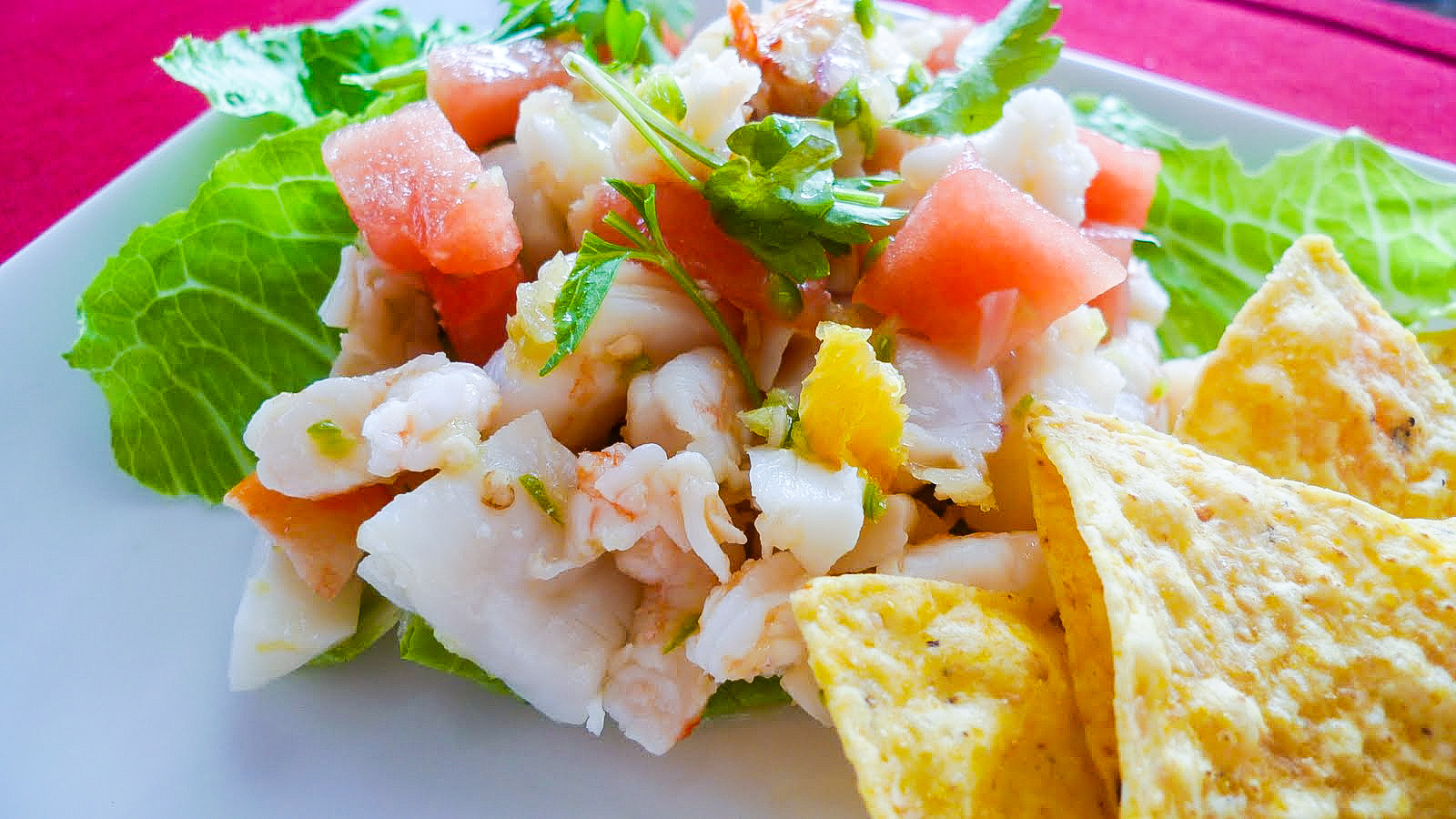 Source:https://belizetravelblog-rbcwrst2ldpfk1dqy0p.netdna-ssl.com/wp-content/uploads/2013/03/FoodNetworkChaaCreek-3.jpg
Papusas are maize pancakes with different toppings sold in stalls on the streets in San Pedro town. It is the cheapest option if you want to eat on a budget.
Falmaau (or Séré) is coconut milk with fish. Normally made with grouper. Very delicious.
5. Visas and licences - price overview
Nationals who hold passports or refugee documents from all European Union member states do not require a visa to visit Belize.
All foreign nationals with a valid visa for the Schengen Area are visa exempt for a maximum stay of 90 days.
Permanent residents and holders of multiple entry visas of the United States may obtain a visa on arrival for a fee of US$50.
Nationals of Afghanistan, Algeria, Bangladesh, Bolivia, China, Cuba, Eritrea, Haiti, India, Iran, Iraq, Kenya, North Korea, Lebanon, Libya, Myanmar, Nepal, Nigeria, Pakistan, Palestine, Sri Lanka, Somalia, Sudan, Syria and Thailand require clearance in addition to a visa.
6. Vaccinations
The CDC and WHO recommend the following vaccinations for Belize: hepatitis A, hepatitis B, typhoid, yellow fever, rabies, meningitis, polio, measles, mumps and rubella (MMR), Tdap(tetanus, diphtheria and pertussis), chickenpox, shingles, pneumonia and influenza.
The CDC lists all of Belize except Belize City as a malaria risk area and recommends the antimalarial drug chloroquine.
7. Health care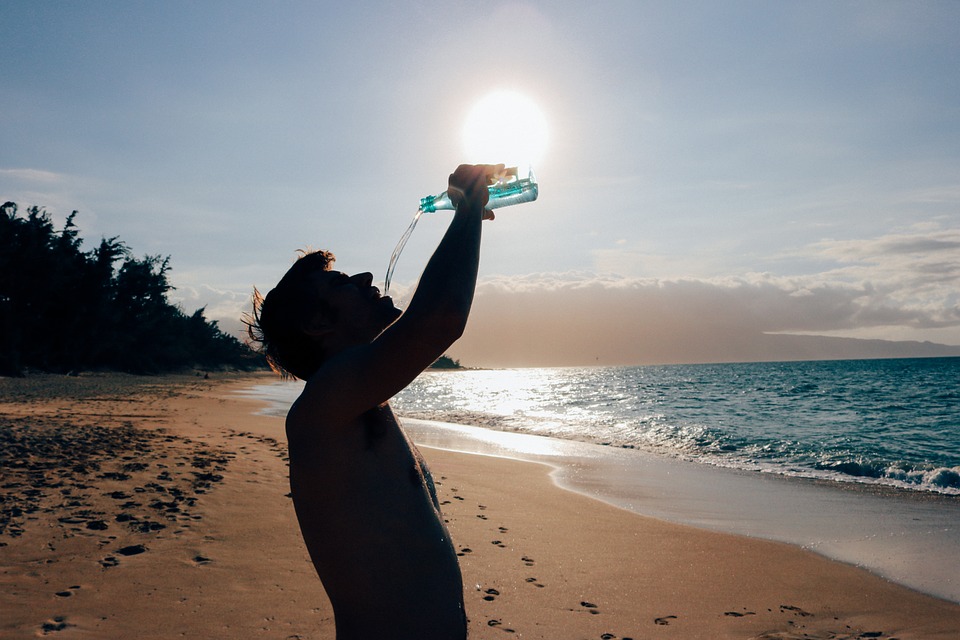 Source: https://cdn.pixabay.com/photo/2015/09/12/21/09/man-937384_960_720.jpg
Not surprisingly for a small, developing country, medical care in Belize is not of the highest standard. It is also fairly expensive compared to neighbouring countries. Many visitors and expats with insurance prefer to go directly to private clinics, the best of which are located in Belize City.
Belize is a relatively healthy country, however, bottled water is a must in most areas. And, unless you eat only at tourist restaurants, dysentery may strike at some point; be prepared with over-the-counter medication and prescription antibiotics as some drugs may be hard to find in Belize (particularly outside the major cities).

8. Required equipment: what do you need to pack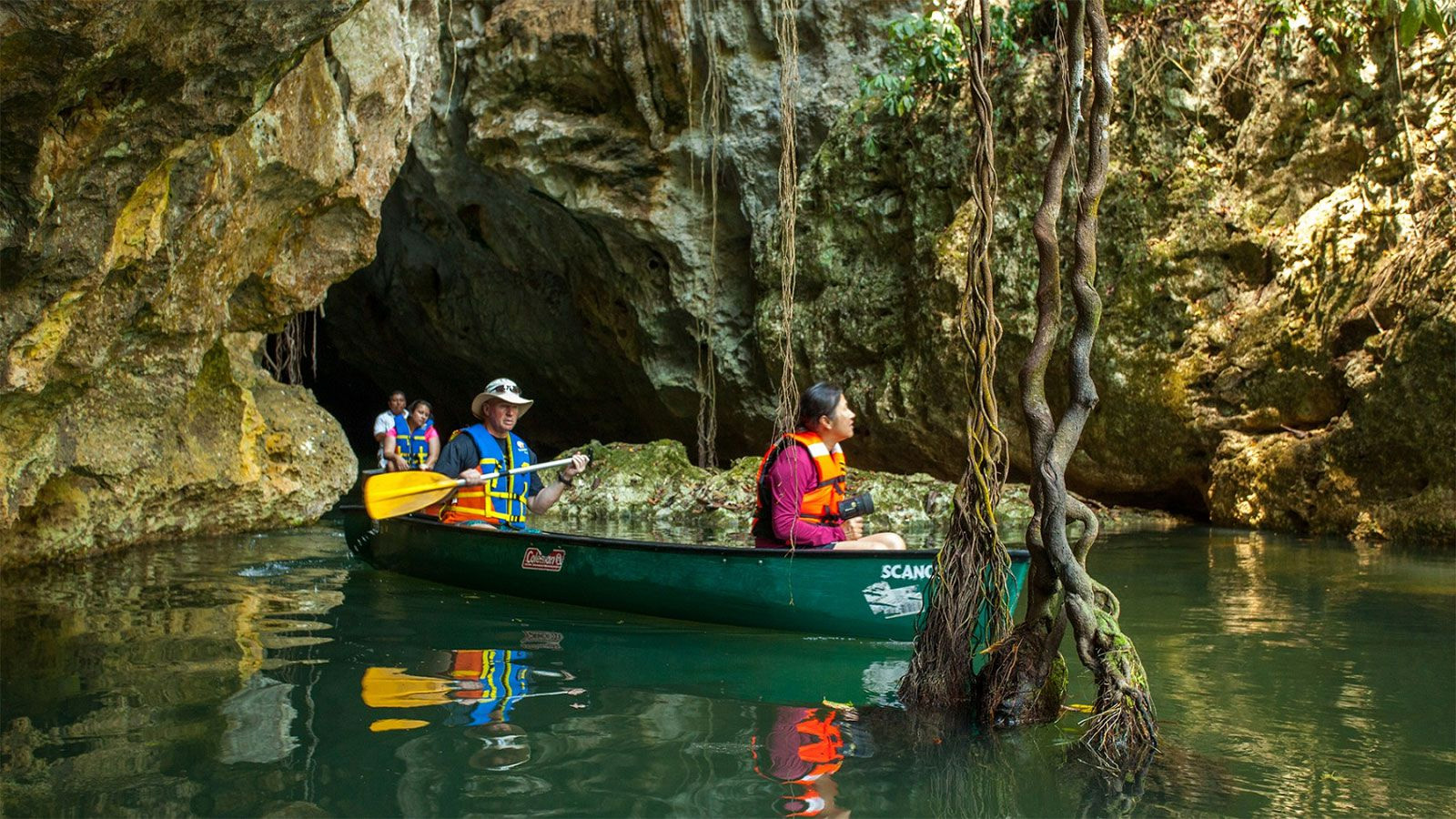 Source: https://www.cahalpech.com/wp-content/uploads/Barton-Creek-Cave-Tour-Belize.jpg
Insect/mosquito bites should be prevented with appropriate clothing, repellents and insecticides, and bed nets if sleeping in non-air-con/unscreened rooms.
The sun, as anywhere else in the tropics, is very intense. A hat, high-SPF sunscreen, and sunglasses will serve you well.
Many places in Belize are very hot and humid, and dehydration is a risk. it is suggested to drink as much water as you want, and then drink that much again.
9. Insurance: in case it is necessary
Travellers should take out a travel insurance policy to cover theft, loss and medical problems. Some policies specifically exclude 'dangerous activities,' which can include scuba diving, motorcycling and even trekking. Check that the policy you are considering covers ambulances as well as emergency flights home.
The standard of healthcare is generally poor. So if travelling be sure to buy an insurance policy that includes evacuation in the event of a medical emergency.
10. Weather conditions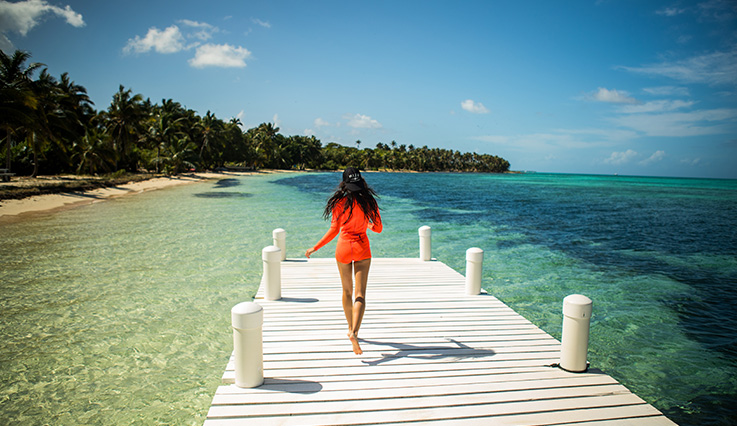 Source: https://www.westjet.com/assets/wj-web/images/en/discover-tiles/destinations/caribbean/Belize-video.jpg
One of the nicest things about visiting Belize is the weather. With an average yearly temperature of 84° F (29°C), it's always warm, yet comfortable.
Even in winter (November-March) the temperature in Belize rarely falls below 60°F (16°C), while the summer (May-September) is around 86°F (30°C). Humidity is also fairly consistent at around 85%.
Belize's dry season is between February and May and has significantly lower rainfall than the rest of the year. When it does rain, it is usually in mild, short bursts.
June through December is the wet season, when parts of the country receive up to 150 inches of rain and the heavy, sometimes wild storms associated with the Caribbean occur, usually in the late afternoons.
11. Dangerous places
Wolfare- All you need when you want to travel  
Belize City is the most dangerous city in Belize, although it's very easy to be safe there. Remain in the tourist zone that runs just north of the marina to the southern extension to the east of the main canal. There is plenty of tourist police monitoring the area, and should you have a problem, feel free to approach them.
Just exercise common sense and do not go wandering around alone after dark. Stay near tourist areas or other commercial zones.
Belize's rugged geography has also made the country's coastline and jungle attractive to drug smugglers, who use the country as a gateway into Mexico. In 2011, the United States added Belize to the list of nations considered major drug producers or transit countries for narcotics.
12. The political situation, safety and criminality in the country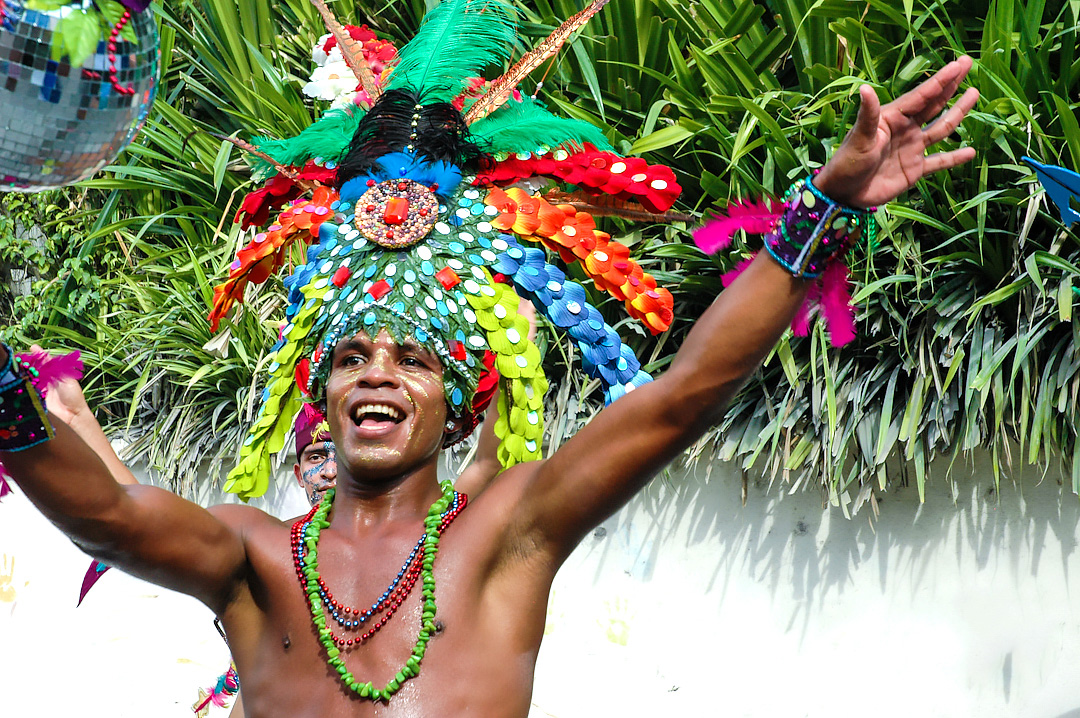 Source:https://belizetravelblog-rbcwrst2ldpfk1dqy0p.netdna-ssl.com/wp-content/uploads/2014/09/Belize-September-Celebrations-8.jpg
With a long Caribbean coast, Belize is a culturally diverse and mixed race country with one foot in Latin America and the other in the Caribbean. There is the creole/ (Afro-European mixture) population as well as the native Maya people and the Mestizos that tend to live in the north.
Belize's social structure is marked by enduring differences in the distribution of wealth, power, and prestige. However, Belize lacks the violent class and racial conflict that has figured so prominently in the social life of its Central American neighbours.
Belize has fairly high levels of violent crime, but most areas frequented by travellers are safe and by taking basic precautions visitors are unlikely to experience any serious problems. The most likely issues for travellers involve opportunistic theft, both while out and about, and from hotel rooms.
In order to minimize the risks:
Keep your bag in the overhead rack or under your seat on long-distance buses rather than at the back of the bus.

Make sure windows and doors lock correctly in your room, especially in remote beachside huts, and use hotel safes where provided.

Ask hotels and restaurants in major urban areas to phone a trusted taxi.
13. Additional information: brief and concise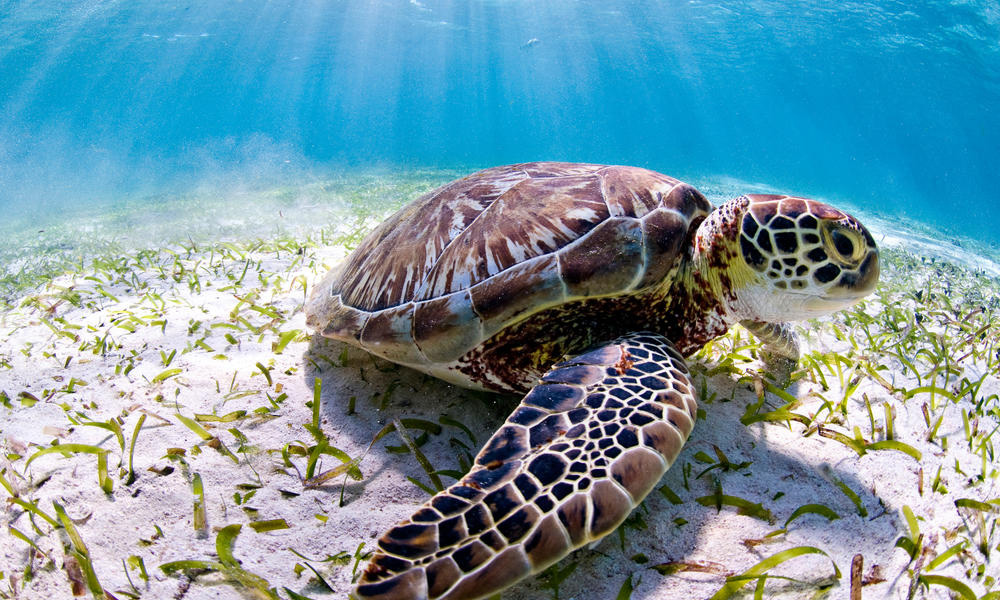 Source: http://assets.worldwildlife.org/photos/13904/images/story_full_width/WW43781.jpg?1498503378
Dress
Apart from formal occasions, such as going to church, dress in Belize is generally very casual even when heading out to eat or for drinks. However, Belize remains a conservative nation and very revealing outfits may be frowned upon in some areas.
Greetings
Don't be shy about making eye contact and greeting strangers on the street. Belizeans are friendly! The most common greeting is the catch-all 'Aarait?' ('Alright?'), to which you might respond 'Aarait, aarait?'
Queues
Belizeans, for the most part, are firm in respecting queues.
Religion
Many Belizeans are very religious, with the various Christian religions being the most common. Visitors should be mindful that opinions and ideas which are inconsistent with religious organizations may cause offence. Sundays are considered an important time for relaxation. Most businesses will close on Sundays and many Belizeans will stay home for the day, or leave only for church. Even social events are likely to be low-key.
14. Main Facts
- Capital city
Belmopan
- Currency
Belize Dollar (BZD)
- Official language
English
- Calling code
+501
- Area: km²
22,966 km2
- Time Zone
UTC (GMT) - 6 (CST)
- Drivers: right or left side
Right
- Religion
Christianity