Just a few hours from the European coastline lies a country which is the embodiment of Islamic Africa. Morocco, meaning 'place the sun sets' has everything to overwhelm the adventurous tourist. Amazing colours, smells and sounds of epic mountain ranges, ancient cities and sweeping deserts. All paired with great diversity and humbling hospitality.

The country is officially known as the Kingdom of Morocco and is a unitary sovereign state located in North Africa. In this region, Morocco enjoys a history of independence not shared by its neighbours.
Geographically, it has a mountainous interior, West Sahara desert to the south and a coast by the Atlantic Ocean that reaches past the Strait of Gibraltar into the Mediterranean Sea.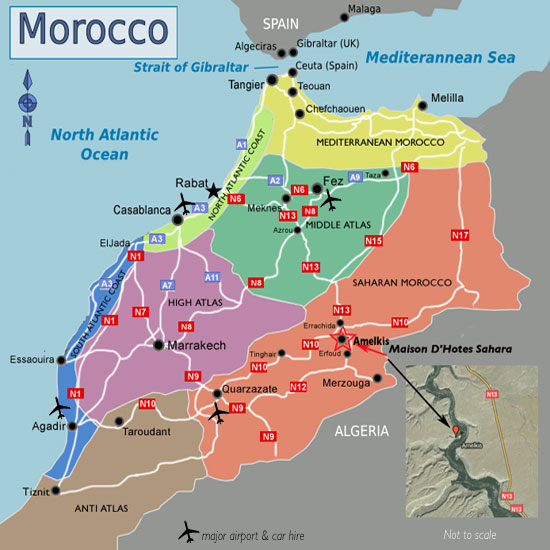 Source: http://maisondhotessahara.com/location/morocco-map-detail2.jpg
Morocco is a very popular destination for European tourists, mainly because of its location. It is close to Europe, mostly Spain, and attracts visitors to its beaches. The number of tourists yearly surpasses 10 million visits.
1. Where to go
It may seem that the main tourist attraction in the country is its beaches but the truth is that Morocco is the perfect combination of relaxing and culture. While not lounging by the sea, visitors can enjoy bustling souqs and spice markets, ancient mosques, picture-perfect sea towns and medieval city centres.
When they venture out of the city, they can indulge in panoramic views of snow-covered mountain peaks or endless sand dunes of Sahara.
All of this aided by the fact that Morocco is relatively inexpensive to visit and enjoy.
Marrakech
The city known as the 'Red City' for its buildings constructed of red sandstone is famous for its old gates and defensive walls. One of its biggest landmarks is Jamaa el-Fna, the largest square in Africa. Among its population, you can find snake charmers, acrobats, magicians, mystics, musicians, monkey trainers, herb sellers, story-tellers and many more.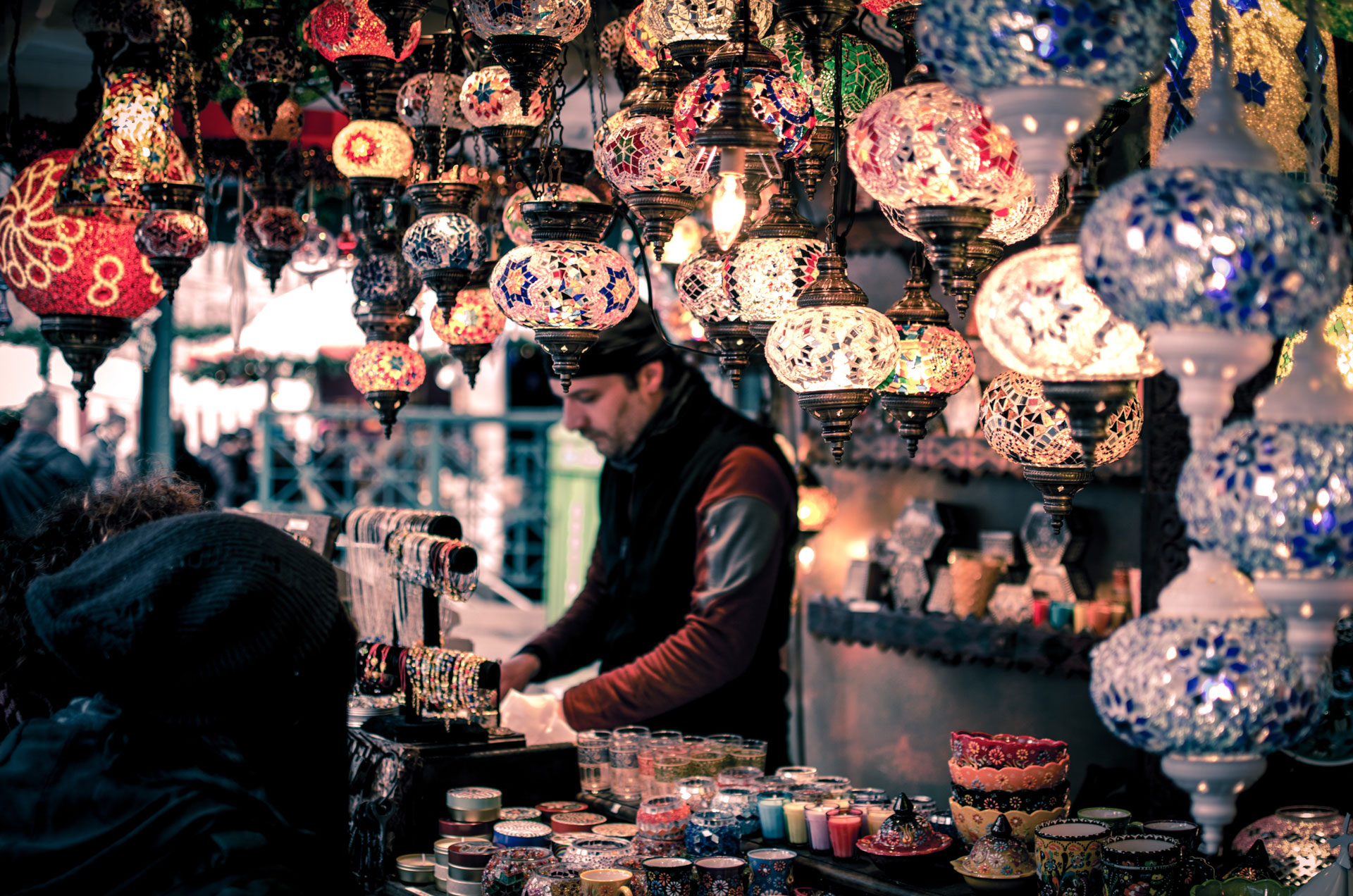 Source: Photo by Wei Pan on Unsplash
Koutoubia Mosque is the largest mosque in the city and it is located in its southwest quarter. Among other great sites are the Saadian Tombs, richly embellished with decorations and the El Badi Palace, which lavish architecture took more than a quarter of a century to build.
A must-stop is The Majorelle Gardens, bought and restored by the fashion designer Yves Saint Laurent. It houses the Museum of Islamic Art and has a large collection of plants from five continents.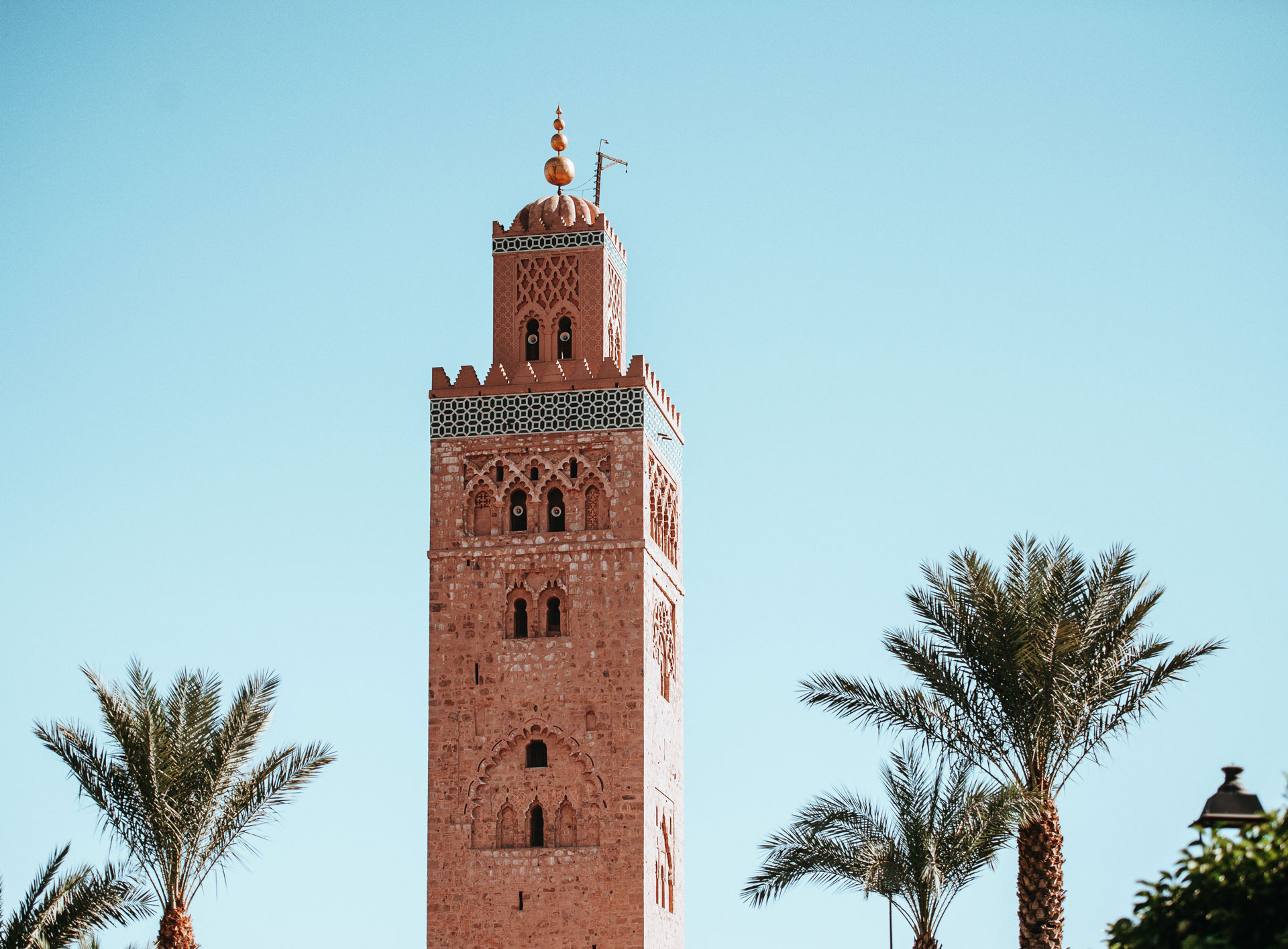 Source: Photo by Annie Spratt on Unsplash
Casablanca
The movie-famous city is the largest city in Morocco and is home to Hassan II mosque. It is situated on a promontory on the Atlantic Ocean and is the largest mosque in North Africa.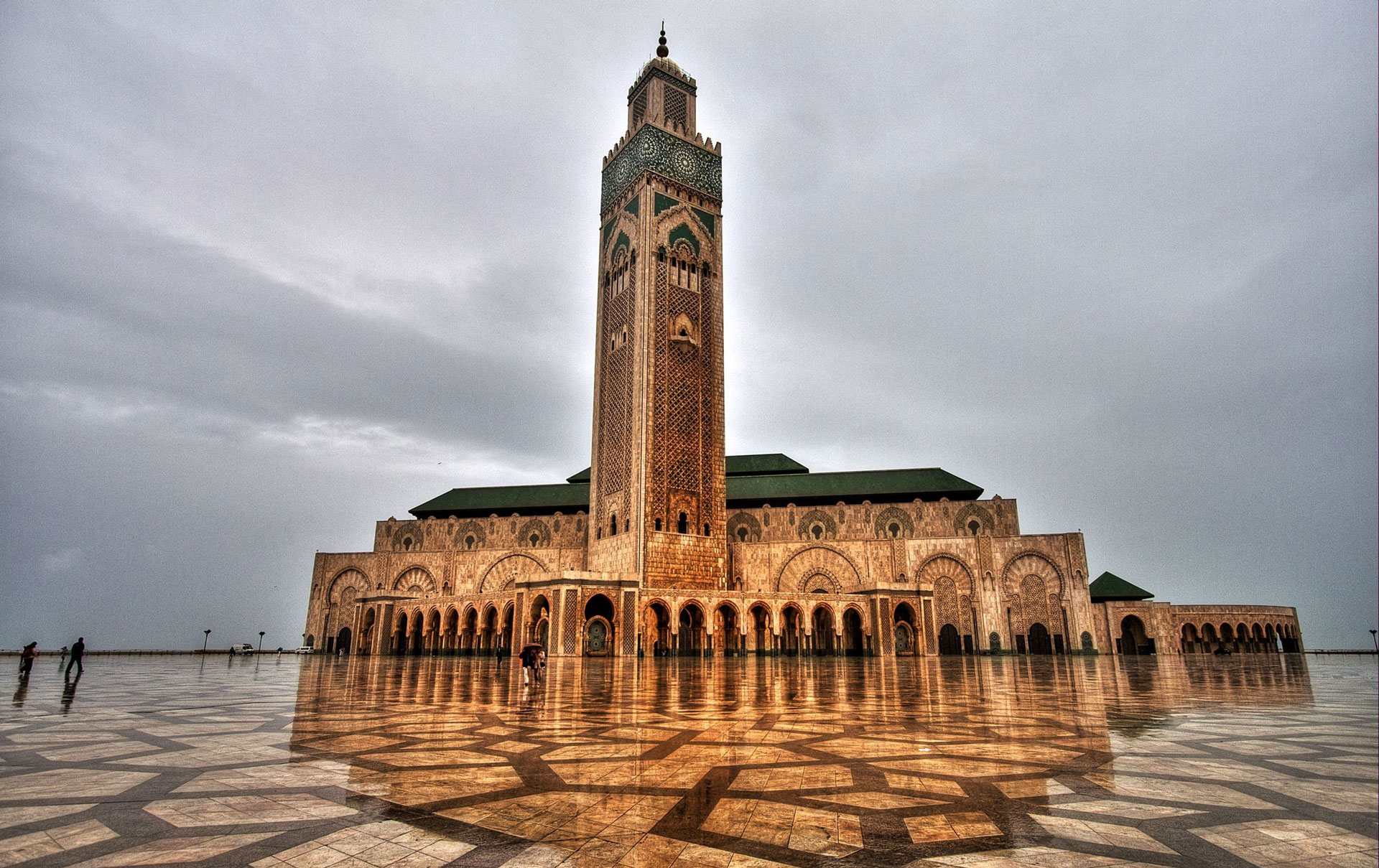 Source: https://images6.alphacoders.com/533/533594.jpg
 Fez
This another gorgeous imperial city was once Morocco's capital. Its visitors can get lost in the alleys of the most extensive and best conserved historic town of the Arab-Muslim world - The Medina of Fez. The University of Al Quaraouiyine is an incredibly important landmark, as it is the oldest continually-operating university in the world. The main tourist attraction of the city, however, is the traditional leather tanning factories.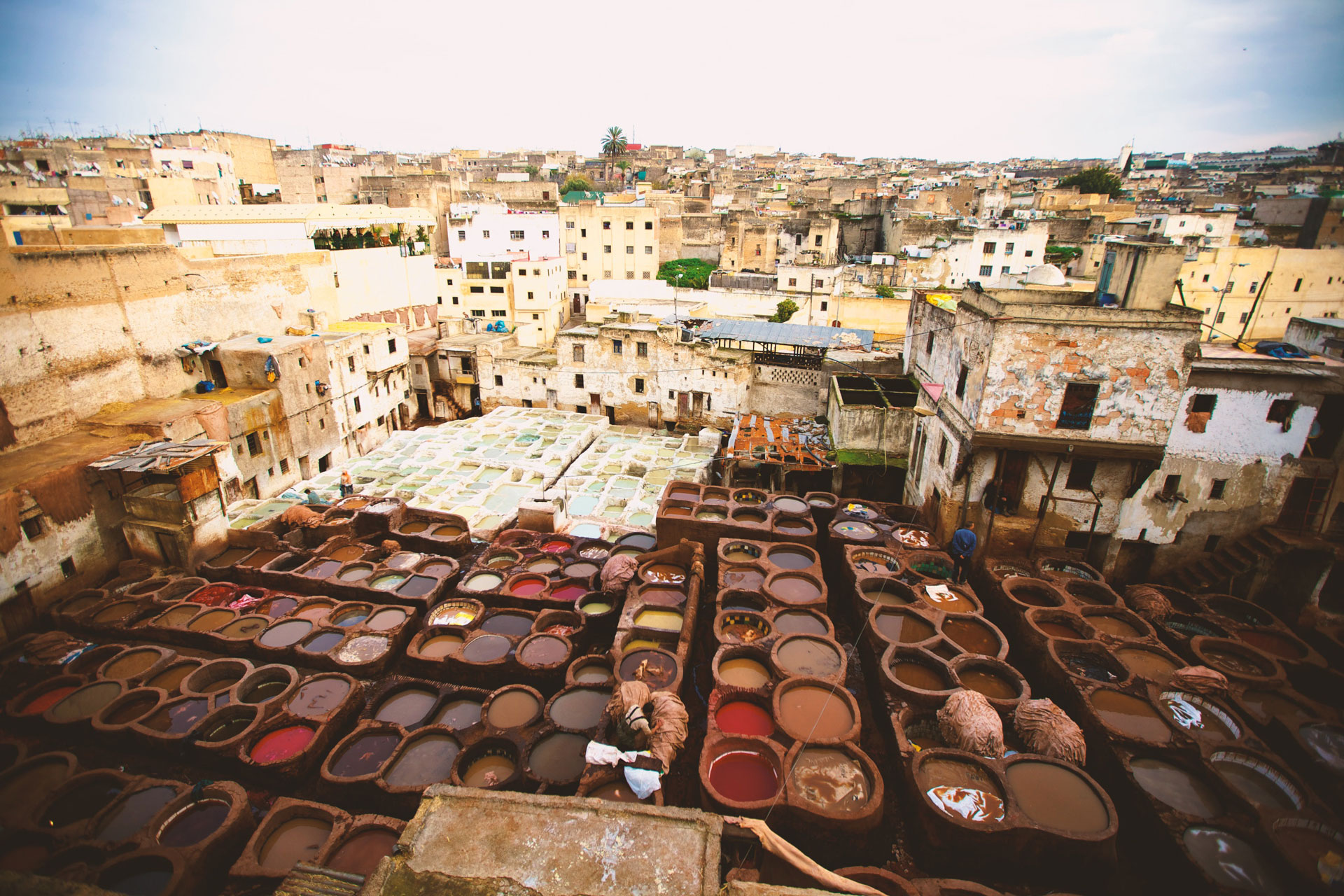 Source: Photo by Ben Ostrower on Unsplash
Atlas Mountains
For the lovers of nature, a great way to experience Morocco is to visit the Atlas Mountains. The town of Chefchaouen is a great starting point for exploring the mountain range.
You get the most stunning view by climbing Jebel Toubkal, the highest peak in North Africa. The panoramic view from the top is well worth the effort all by itself, but the whole climb provides a view of gorgeous valley and villages.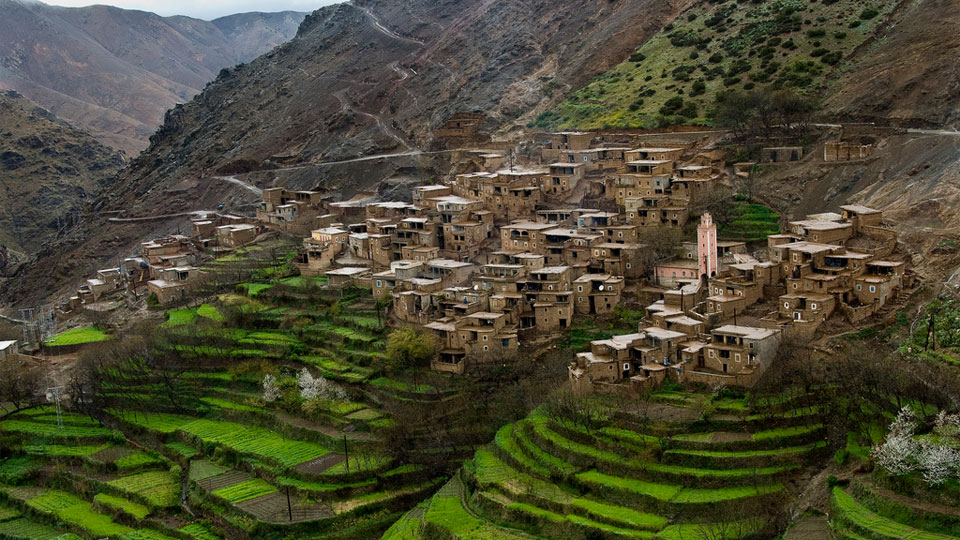 Source: http://cdn.travelmint.com/photos/atlas-mountains-morocco/the-imlil-valley-265.jpg
Other great hiking trails lead through Amlen Valley in the Rif Mountains in the north.

A different kind of adventure awaits those, who decide to hop on a camelback and ride through the Sahara sand dunes at Erg Chebbi. The night spent staring at the star-filled sky and sleeping in a tent makes for a very special memory.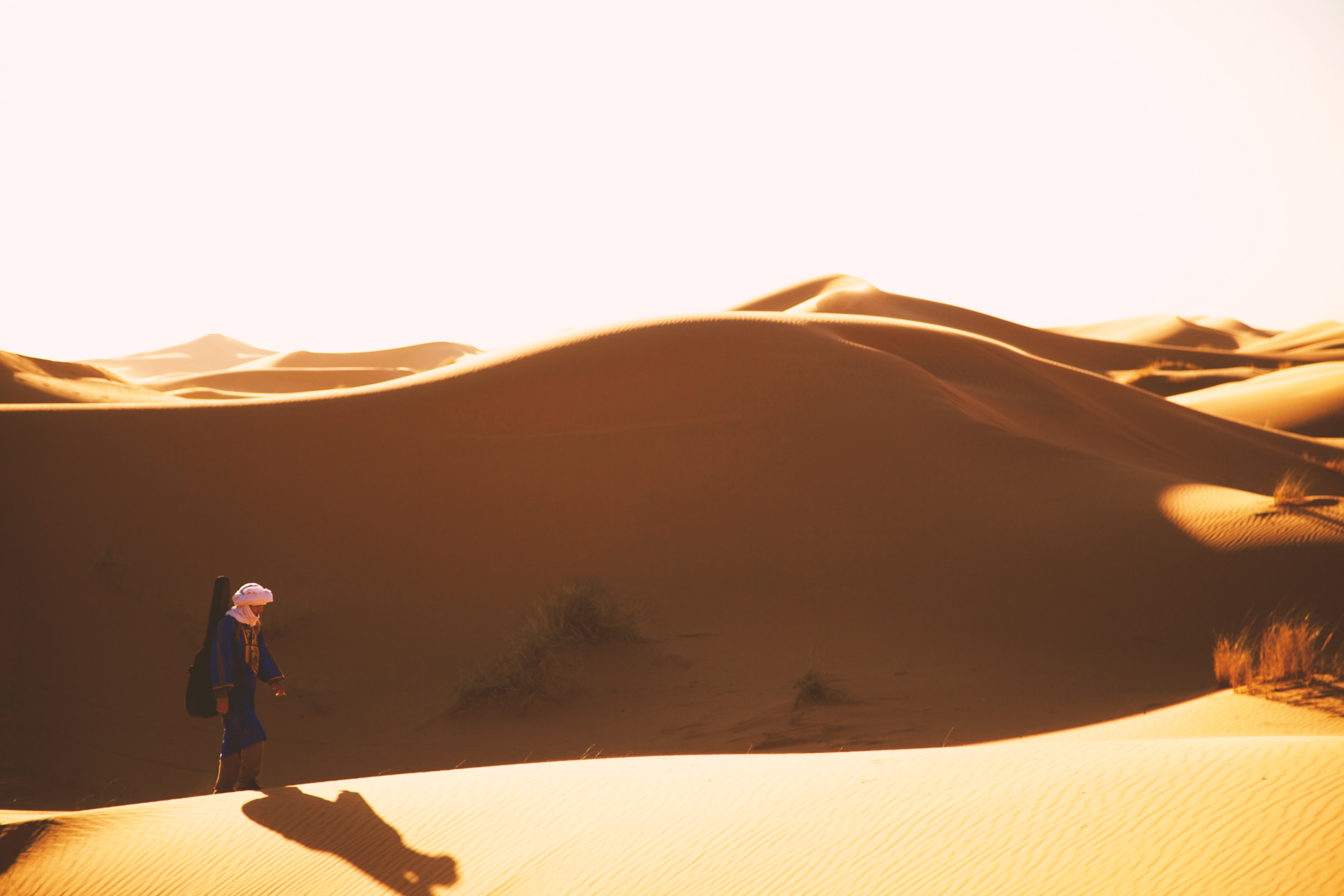 Source: Photo by Ben Ostrower on Unsplash
Wolfare- Travelling has never been easier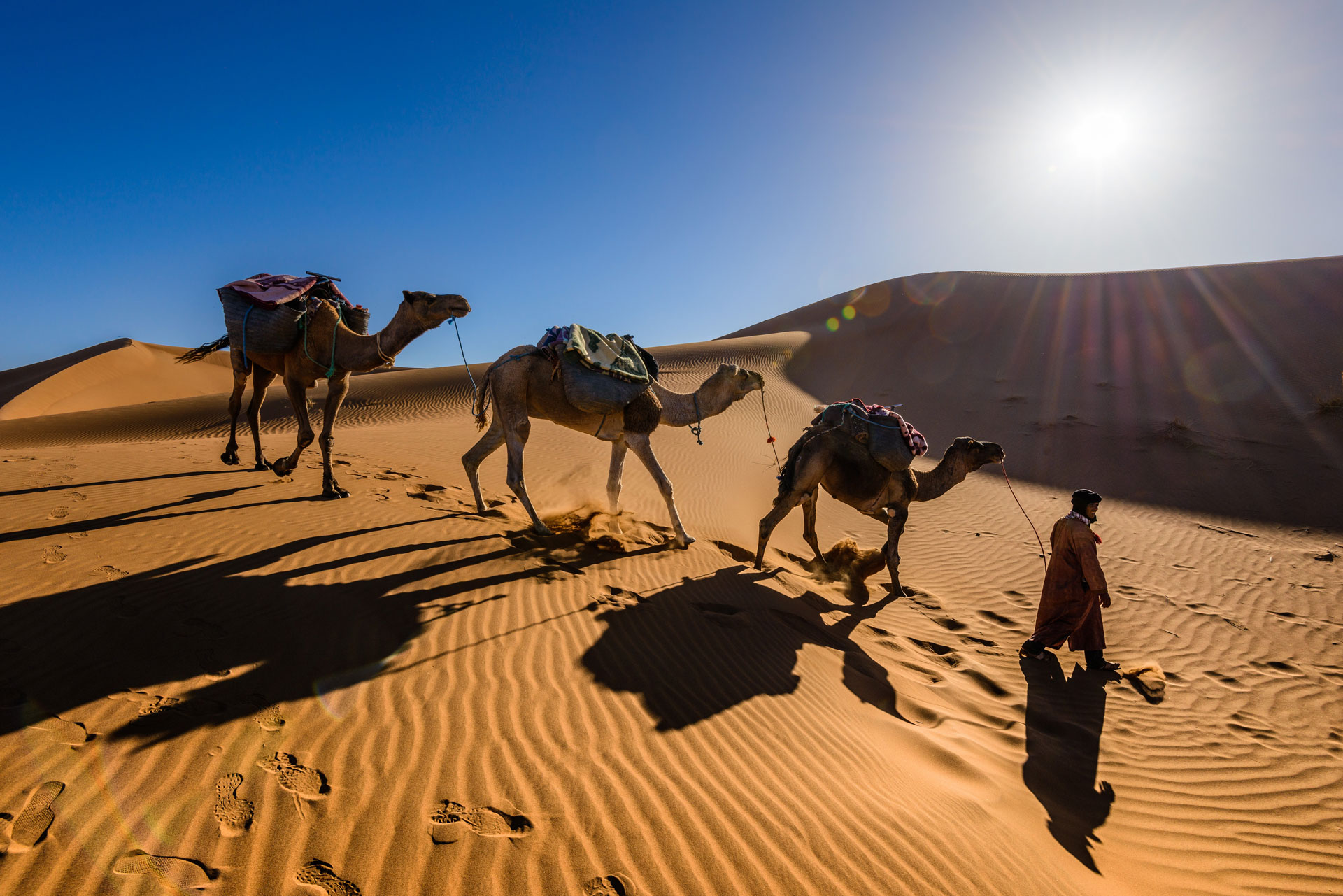 Source: Photo by Sergey Pesterev on Unsplash
And for a breath of true history, visit the ancient fortified city of Aït-Benhaddou.

The true Moroccan experience is the Hammam (steam bath). There are two types across Morocco. A tourist hammam, where everything is done for you. The other option is a popular hammam, where the locals go. You can ask about that the staff of your hotel. Just be careful - nudity in a popular hammam is strictly forbidden for men.
2. Transport
 Moroccan road and rail infrastructure are truly excellent and it links the major cities with ports and international airports. This also means that you can easily get almost anywhere by car. Car rental firms are usually based in larger cities and the worldwide rental networks have offices there too.

Photo by Nuno Silva on Unsplash
Low-cost airlines offer cheap flights to the country and many European carriers serve Morocco including Iberia, TAP Portugal, Air France, Lufthansa, Swiss, Turkish Airlines, Norwegian, BMI, British Airways, Brussels Airlines, Air Berlin, Alitalia, Transavia, Portugalia, and Germanwings.

Casablanca is the major cruise port in Morocco and has the best-developed market for tourists in Morocco.

Many visitors decide to take a flight to Gibraltar or Malaga, which are cheaper to get to and then take a ferry to Morocco. However, these passages may get very crowded during the summer holidays.

The train network is limited, but it is the fastest and most comfortable travel option in the country. The trains are also very cheap compared to rest of Europe.
The next best bet is luxury buses with almost universal coverage. Local buses are also an available choice but these can be very slow and have no air conditioning.
3. Accommodation
 Accommodation in Morocco is diverse and can satisfy a large range of budgets. Places to stay are rated as 1 star (simple) to 5 stars (luxury) and their classifications are an auberge, riad, rural gîtes d'étape or hotel. Stays usually include breakfast, and many include dinner.

Auberges are built in the traditional mud (kasbah) style and can be found in the country or in rural small towns. Auberge is very comfortable, small and usually family run and owned.

Riads or Dars can be found in any city with a medina (old city). These are small hotels renovated from old houses and are often small, clean and charming. They often have a walled garden or a roof terrace. These are ideal places to stay in Morocco and you can go from simple to luxury, based on your budget and preferences.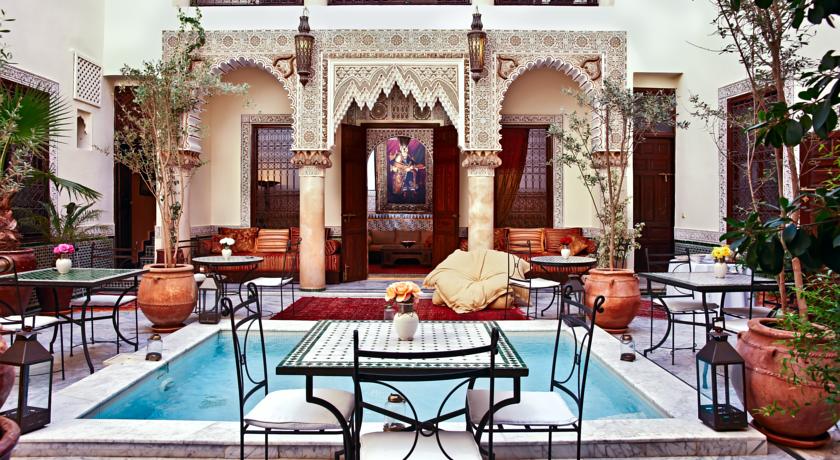 Source: http://tlc-travel.com.ua/wp-content/uploads/riad4-jpg.jpg
Gîtes d'étape are simple country inns designed for mountain trekkers. Here, they can grab a hot shower, a good meal, and have a roof over their head for one night.
Otherwise, you can find a range of traditional hotels in larger cities in Morocco.

With the exception of large high-end hotels, expect the hot water supply in hotels to not be as stable as in more established countries.
4. Traditional food and meals
Moroccan cuisine is considered as one of the most diversified cuisines in the world. It is mainly a fusion of Moorish, European and Mediterranean cuisines and enjoys an extensive use of spices.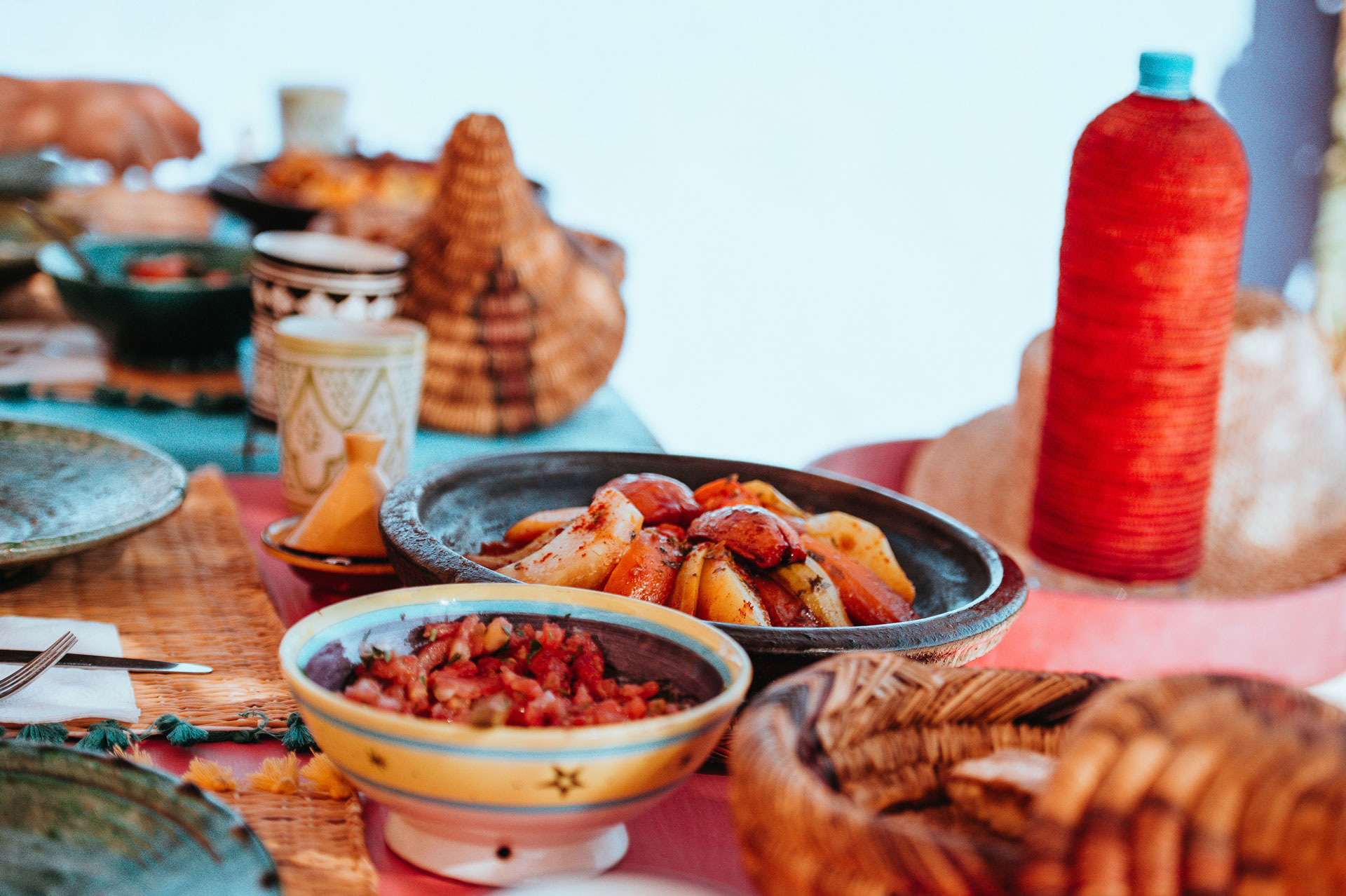 Source: Photo by Annie Spratt on Unsplash
The main Moroccan dish is the now famous couscous, the old national delicacy.

Among other popular dishes are Tagine, a spicy stew of meat and vegetables that have been simmered for many hours in a conical clay pot. Dozens of variations are served in restaurants and are about MAD25 for a meal.

Kaliya is a combination of lamb, tomatoes, bell peppers and onion and served with couscous or bread.
Also, a popular delicacy in Morocco is Bastella, made by layering thin pieces of flakey dough between sweet, spiced meat filling (often lamb or chicken, but most enjoyably pigeon) and layers of almond-paste filling.

Moroccans like to have soup for breakfast and among the most popular is harira, made from lentils, chickpeas, lamb stock, tomatoes and vegetables. One serving is about MAD 3-5 and always includes some bread to mop the soup up.

If you like a more traditional European breakfast, many cafes offer petit déjeuner breakfast deals. These include a tea or coffee, orange juice, and a croissant or bread with marmalade from MAD10.
Any traveller will be offered (sometimes very sweet) mint tea at least once a day.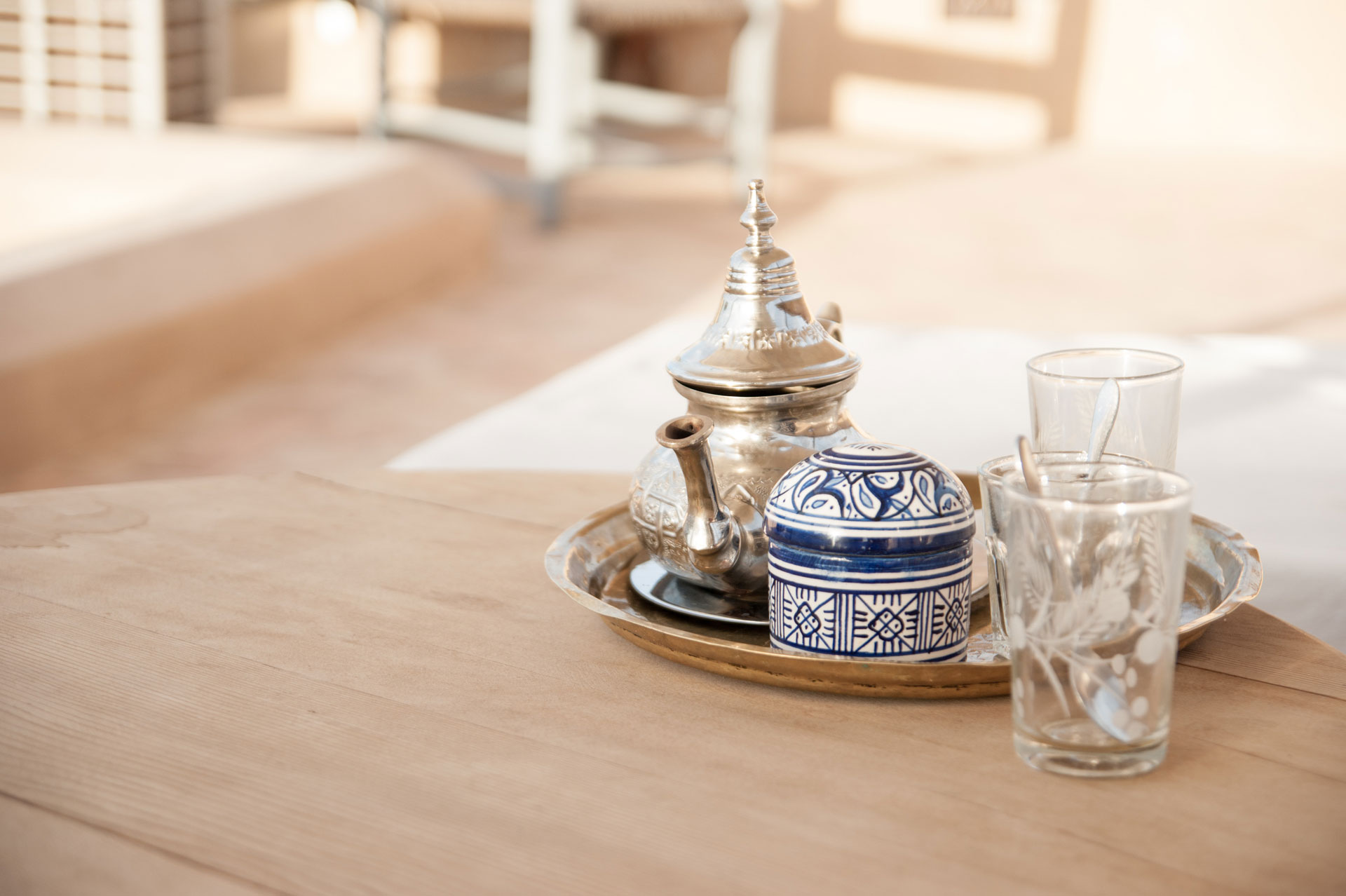 Source: Photo by Martin Zangerl on Unsplash
A big part of Moroccan diet is bread, therefore bakeries are very common throughout the country. Fresh bread is a staple in every city, town or village.

The most widely eaten meat is chicken. Please note though, that pork consumption is forbidden in accordance with Sharia, religious laws of Islam.
5. Visas and licences
All visitors to Morocco require a valid passport, but visitors from Schengen member states are exempted from having a visa for 90 days unless otherwise stated.
Tourists from countries that need a visa to enter Morocco need to contact the Moroccan Embassy. The embassy charges the equivalent of GBP17 for a single entry and GBP26 for double or multiple entries. Visas are usually valid for 3 months and take around 5-6 working days to process.
Tourists can stay for up to 90 days. Visa extensions can be a frustrating and time-consuming process.
6. Vaccinations
Tourists need no particular inoculations for Morocco under normal circumstances. As with most travel, it is wise to have a tetanus immunization.

 If you plan to eat outside the circle of established restaurants, consider a Hepatitis A inoculation.
7. Healthcare
In general, the quality of doctors and healthcare in Morocco is decent. An average doctor's check-up at a self-employed doctor in a city costs between 150 and 300 dirhams. Government hospitals are cheap and will suffice for minor problems. You will be expected to pay for drugs and treatment up front.
You can spot a pharmacy by a neon green cross.
It is not wise to drink tap water and it is recommended to keep a supply of bottled water in your room.
Wolfare- Travelling has never been easier  
 8. Required equipment
 You probably won't need any kind of special footwear, unless you go in the coldest time of the year. In cities, streets are paved or asphalted. Just be sure to have closed shoes for sanitary reasons.
For trekking in valleys, low trekking shoes will be enough.
 9. Insurance
It is wise to have a travel insurance designed for trips to Africa.
10. Weather conditions
The country's Mediterranean climate is filled with lush forests in the northern and central mountain ranges of the country, giving way to drier conditions and inland deserts further southeast.
Summers are hot to moderately hot and dry, average highs are between 29 °C (84.2 °F) and 32 °C (89.6 °F).
Winters are generally mild and wet, daily average temperatures are around 9 °C (48.2 °F) to 11 °C (51.8 °F), and average low are around 5 °C (41.0 °F) to 8 °C (46.4 °F), typical to the coastal areas of the west Mediterranean.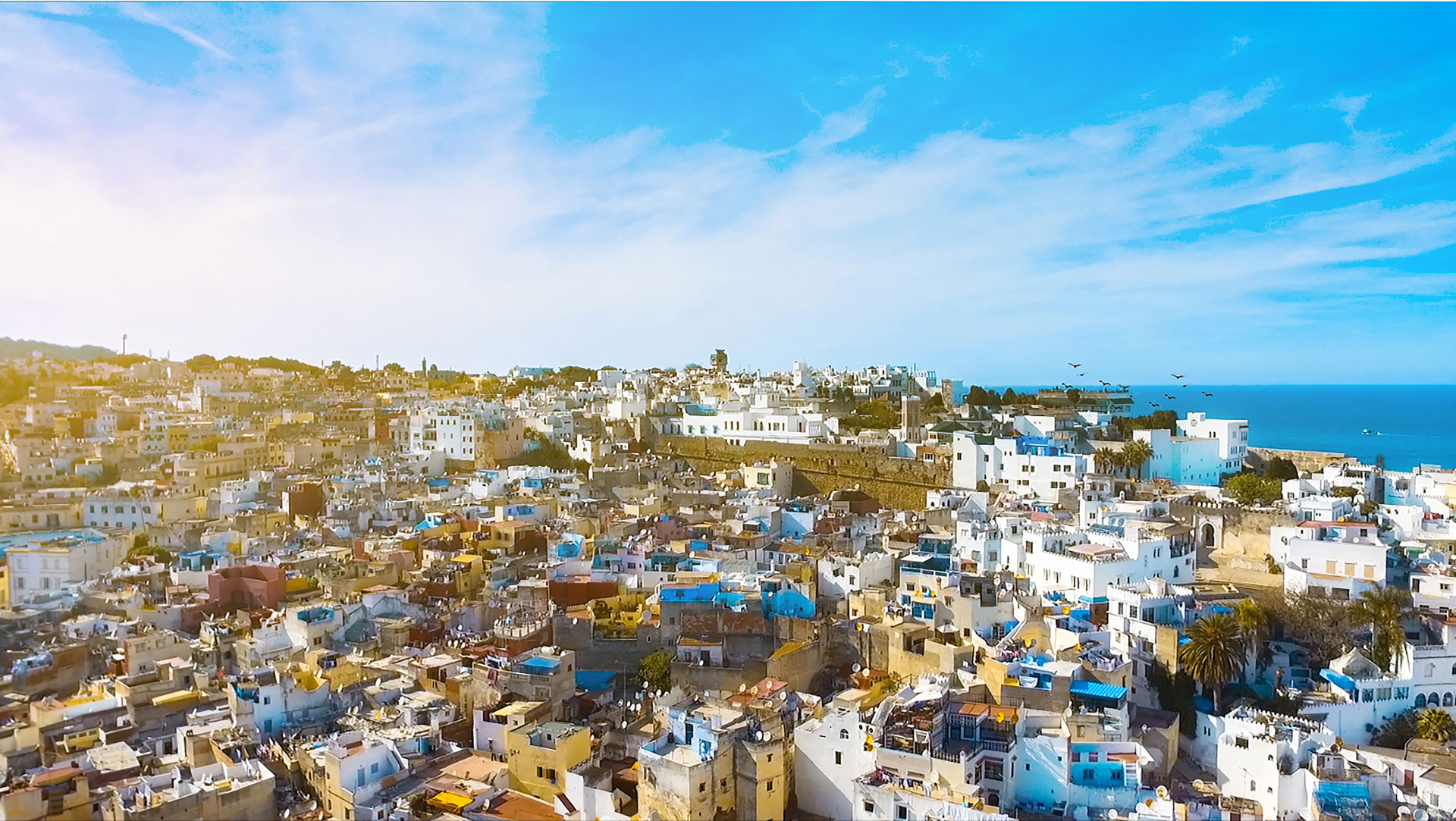 Source: Photo by Kamal Bilal on Unsplash
 11. Dangerous places
Faux guides and touts are a common thing in Morocco and they congregate around tourist areas. They will offer to show you around the medinas, help you find accommodation or even score some drugs.
At bus/train stations, people will tell you that there have been cancellations and that you won't be able to get a bus/train. This is almost always a con to get you to accept a hyped-up taxi fare.
In general, do not accept the services of people who approach you.

Women can get sexually harassed when walking the streets.
12. Political situation, safety and criminality in the country
The Moroccan Constitution provides for a monarchy with a Parliament. It was an authoritarian regime but with the 2011 constitutional reforms, the King of Morocco retains less executive powers whereas those of the prime minister have been enlarged.
Morocco is a member of the United Nations and has strong ties to the West. France and Spain remain the primary trade partners and Morocco is included in the European Union's European Neighbourhood Policy, so relationships with tourists from western countries are good.

Homosexual acts are illegal in Morocco and can be punishable by 6 months to 3 years of imprisonment.

It is illegal to proselytise for any religion other than Islam and that crime is punishable by a maximum of 15 years of imprisonment

Morocco remains a safe place with one of the lowest homicide rates in the world. However, avoid walking at night or in dark alleys and travel in a group whenever possible.
13. Additional information
The biggest event on the Moroccan calendar is the month of Ramadan, during which Muslims fast during the daytime and break the fast at sunset. Most restaurants are closed for lunch and things generally slow down. It's respectful to refrain from eating, drinking or smoking in public during the fast.

Remember that bargaining in the souks is expected. Never tell a vendor where you are staying or how much you paid for any other purchases.

Greeting by a handshake is the norm. However, left hands are considered 'unclean' in the Muslim religion. As in many cultures it could be considered impolite to shake hands or offer or accept something from someone with your left hand, more so is giving money by your left hand, so try to avoid that.
14. Main Facts
- Capital city
Rabat

- Currency
Moroccan dirham (MAD)

- Official language
Arabic and Berber
The Moroccan dialect referred to as Darija, and French are also widely spoken

- Calling code
+212

- Area: km²
710,850 km2 (274,460 sq. mi)
- Time Zone
UTC +0 Western European Time
UTC+1 Western Summer Time

- Drivers: right or left side
Right

- Religion
Islam
Written by redactor of wolfare.com: Zofia Hrebickova
Wolfare- Travelling has never been easier