"Traveling – it leaves you speechless, then turns you into a storyteller."
-Ibn Battuta
1. WHERE TO GO
Anywhere you go in New Zealand you find something what might interest you. On every corner there is a beautiful forest, silent lake, spectacular view or bewildering beach.
However there are places which you'll be sadder to miss than others. Let's sum up few places NOT TO MISS at any circumstances while you are around.
MILFORD SOUND
Milford Sound is a fiord in the southwest of New Zealand's South Island. It is New Zealand's most stunning natural attraction. With its magical combination of deep blue waters, dramatic cliffs and mountain peaks catch your heart and pump it with happiness.
Milford Sound is experience of the beauty of pristine scenic destination, a must-see on every New Zealand itinerary.
The fiord is home to penguins, dolphins and fur seal colonies.
TIP
Milford Sound cruises
WAIOTAPU
Waiotapu is an active geothermal area in New Zealand's Taupo Volcanic Zone. It is 27 kilometres south of Rotorua.
Due to dramatic geothermal conditions beneath the earth, the area has many hot springs noted for their colourful appearance, many bubbling mud pools, and as a cherry on top The Champagne pool which is not like any other.
ABEL TASMAN NATIONAL PARK
Abel Tasman National Park is a wilderness reserve at the north end of New Zealand's South Island. It's known for the favorite Abel Tasman Coast Track.
Best place for kayaking.
Moreover you can meet fur seal colonies, little blue penguins, bottlenose dolphins and seals.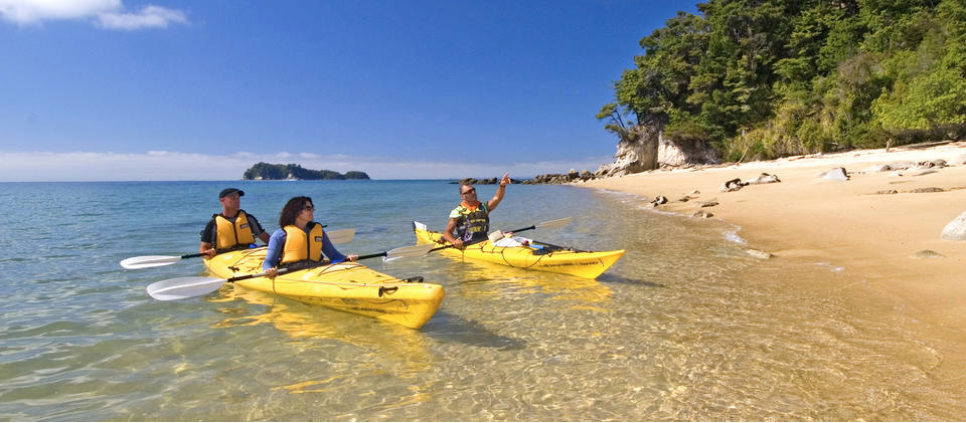 Source: www.newzealand.com
TONGARIRO
Tongariro National Park is on New Zealand's North Island. The Tongariro Alpine Crossing trail passes the Emerald Lakes and boiling mud pools, culminating at still-active Red Crater.
TIP
http://www.tongarirocrossing.org.nz/
2. Transport
Public transport is not much develop as it the country is very big and sparsely inhabited. Best way of transportation is renting or byuing a campervan.
3. Accommodation
Top recommendation is renting or buying a campervan. You can use campsites to park your van, have a shower and cook a dinner. There is a small fee for using a campsite, you can park your van in the nature and wake up surrounded by breathtaking nature. Some places are forbidden for camping so please respect the country policies.
4. Traditional food and meals
A hāngi is a traditional Māori method of cooking food using heated rocks buried in a pit oven.
New Zealanders cuisine consists mostly of maize, potatoes and pigs. They were gradually introduced by the early European settlers.Distinctive ingredients or dishes include lamb, salmon, kōura (crayfish),dredge oysters, whitebait, pāua (abalone), mussels, scallops, pipis and tuatua (both are types of New Zealand shellfish),kūmara (sweet potato), kiwifruit, tamarillo and pavlova (considered a national dish).
5. Visas and licences
Most european country inhabitants have the opportunity to gain work & holiday visa under age of 30. Others are only travelling visa usually for 90 days.
Best up to date information you can find on New Zealand immigration site

https://www.immigration.govt.nz/new-zealand-visas
When you fly to New Zealand you must fill in the arrival card before the landing where you declare your luggage contains no organic material which can contaminate local fauna or flora. They ask you how long are you going to stay, where is your accommodation, your flight and personal details, what are you bringing to New Zealand, whether you were visiting some kind of farm recently etc.
6. Vaccinations
There are no special vaccinations needed to come to New Zealand as there are no predators and no special illnesses.
7. Required equipment: what do you need to pack
Do not bring any food, plants, soil or any other organic material they are very strict about this so be very careful! Not even an apple or dirty shoes.
Pack:
Most people come here to camp so best equipment is camping equipment.
Backpacking stove, lights, knives, tools, good outdoor clothes, warm and light, powerbanks. Good solar charger is a helper.
Camera to take pictures of this wonderful picturesque country.
Wolfare- All you need when you want to travel  
8. Insurance: in case it is necessary
Have an arranged travel insurance.
9. Weather conditions
New Zealand has mostly temperate climate. While the far north has subtropical weather during summer, the inland alpine areas of the South Island can be as cold as -10 C in winter. Most of the country lies close to the coast, what means mild temperatures, abundant sunshine and moderate rainfall.
Because New Zealand lies in the Southern Hemisphere, the average temperature decreases as you travel south. The warmest months are December, January and February. The coldest are June, July and August. In summer, the average maximum temperature ranges between 20 - 30ºC and in winter 10 - 15ºC.
New Zealand does not have a large temperature range. It is lacking the extremes found in most continental climates. However, New Zealand weather can change unexpectedly—as cold fronts can quickly blow in. Because of this, you should be prepared for sudden changes in weather and temperature. Therefore if you are going to hike pack warm and light clothes in your backpack.
Spring - September, October, November
Summer - December, January, February
Autumn - March, April, May
Winter - June, July, August
10. Dangerous places
New Zealand has very low criminality and has no forbidden places. Use your common sense, lock your car and don't go to dark alleys at night by yourself and you will be just fine.
There are some very interesting places which can be considered dangerous but not because of criminality but because of power of nature. Volcanic country is full of places where you must be very careful where to step. However it is hard to find the place like this which does not have a proper marking.
Good example of place where mother earth played her role dangerously is Champagne pool mentioned and showed above. This pool is 75 °C hot and contains poisonous gases so you better have a bath somewhere else ;)
11. Political situation, safety and criminality in the country
Political system in New Zealand is stable and it is based on the British model. There is a single house of Parliament and the role of head of state is held by Queen Elizabeth II, as Queen of New Zealand. New Zealand's democratic engagement is strong. Typically between 75-80% of New Zealanders turn out to vote in general elections.
Safety
New Zealand is rated in international surveys as one of the world's most peaceful, least corrupt countries.
The 2017 Global Peace Index, which compares 162 countries for the risk of personal violence, rates New Zealand as the world's second safest country just after Iceland.
12. Main Facts
- Capital city: Wellington
- Currency: NZD (new zealand dollar)
- Official language
96.1% English
3.7% Māori
0.5% NZ Sign
- Calling code +64
- Area: 268,021 km2
- Time Zone NZST(UTC+12) Summer NZDT(UTC+13)
- Drivers: left side
- Religion: mostly chistian